By Jai Kumar Verma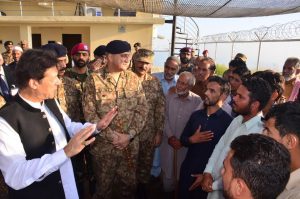 New Delhi. 15 September 2019. Pakistan army as well as civilian government were caught napping when on 5 August 2019 Modi government defanged Article 370. Pakistan army which proclaims to be saviour of Pakistan and its ideology always claimed that they will snatch Kashmir from India through covert operations.
The poor Pakistani masses were spending large amount on the maintenance of defence forces which are disproportionate to the size of the country. The ruling elite of Islamabad always nurtured the masses with the slogans like "Kashmir Banega Pakistan", "Kashmir is the core issue" between India and Pakistan. The generals and political leaders also claimed that "Kashmir is the unfinished agenda of the partition". By all these slogans army as well as civilian government inculcated an impression in the masses that after some time Kashmir will merged in Pakistan.
The army also cultivated phoney impression in the country especially in Pakistani Punjab that Sikhs are very unhappy in India and soon it will be disintegrated and a new country with the name of Khalistan will be created. The hardliners proclaimed that dismemberment of India and creation of Khalistan will be Pakistan's revenge of 1971 in which Bangladesh was created.
Hence when India revoked the special status of Jammu & Kashmir and announced that J&K is no longer a bilateral issue it came as a jolt to Pakistan. A big industry was flourishing in Pakistan on the name of Kashmir while the army was using it to keep its image high whereas the Islamic zealots were exploiting Kashmir issue to hype anti-Hindu and anti-India sentiments. In last 70 years of independence, Pakistan in 1947 raided Kashmir with tribesmen and the army, while sent army under the garb of 'infiltrators' in 1965 and in Kargil in 1999. Pakistan continued infiltrating Mujahedeen in India especially in Kashmir. Pakistan regularly observes "Kashmir Solidarity Days".
Once India declared that J&K is not only part of India but there will be no bilateral negotiations on it, as it is an internal matter of India, Pakistani leaders issued threatening statements. Prime Minister Imran Khan wrote an article in The New York Times in which he warned that Pakistan will explore all options and will also take the issue of revocation of article 370 in international forums including Security Council. Pakistan also threatened to re-energise terrorists and according to a report Inter-Services Intelligence (ISI) has already deputed 100 personnel of Border Action Team (BAT) to kidnap, kill and mutilate Indian security personnel. Pakistan government is organising demonstration on Pak Occupied Kashmir (POK) and also threatened to start Jihad in the valley through Jaish-e- Mohammed, Lashker-e-Toiba and other terrorist outfits.
Pakistan through its lackeys is trying to instigate violence in the valley. Islamabad is trying to play Muslim card to inflame violence not only in the valley but in whole of India. However Indian Muslims whose forefathers have rejected two nation theory have spurned the appeal of Pakistani leaders and the country remained peaceful. However, the reaction of underlings of Pakistan in the valley is still awaited as all restrictions are not lifted from the valley.
China helped Pakistan in taking the Kashmir issue in the UN Security Council in an "informal" discussion in the developments in J&K. The UNSC refused to issue any statement against India as four out of five permanent members except China were of the view that it is a bilateral mater between India and Pakistan. Donald Trump US President offered to mediate between India and Pakistan to resolve Kashmir issue. But India made it clear that the Kashmir is a bilateral issue and no mediation is required. It appears that Trump is desperate to reach a negotiated settlement from Afghan Taliban so that US forces can return to their homeland and Pakistan is assisting Zalmay Khalilzad, the U.S. special representative for Afghan reconciliation. Even Pakistan Foreign Minister Shah Mehmood Qureshi threatened to take Kashmir issue to International Court of Justice (ICJ). The jurists claim that ICJ has no jurisdiction on this issue.
Islamabad has not only banned all cultural exchanges with India but also blocked all joint ventures. Pakistan has not only downgraded diplomatic ties with India, but Imran Khan also called his counterparts in numerous countries to press India to rescind defanging of article 370. Imran Khan threatened the world community that there can be a war between India and Pakistan which will be disastrous as both countries possess nuclear warheads. He also made efforts to blackmail the international fraternity by saying that Pakistan will not help in peace negotiations in Afghanistan. But the world community refused to oblige Pakistan and few countries openly supported India and claimed that it is an internal matter of India while few nations mentioned that it is a bilateral issue and India and Pakistan should solve it through negotiations.
Pakistan got a jolt when Organisation of Islamic Conference (OIC) refused to help Pakistan. The United Arab Emirates (UAE) which sometime back assisted Pakistan with the financial assistance of $ 2 billion presented "Order of Zayed" the highest civil decoration of the country to Narendra Modi.
Pakistan's offer of negotiations was rejected by India's External Minister S. Jaishankar in a recent interview in Brussels. He stated that as Pakistan "openly practises terrorism" there is no use talking to it. India refused to negotiate with Pakistan after Pakistan based terrorists attacked Indian Air Force station at Pathankot in January 2016.
Pakistan has left with very little options after India defanged article 370. The hardcore India baiters have even suggested war with India but the army as well as civilian leadership is aware that Indian forces are much stronger than Pakistan hence there were very few takers of an attack on India. The other option which hardliners are trying is to carry out a big terrorist attack in India. It can be in J&K or in any other part of the country. But it is also quite difficult as Indian forces are extremely alert and arrested several terrorists and unearthed few arms caches. Just few days back J&K police arrested three terrorists of J-e-M and recovered four AK-56 rifles and two AK-47 riles along with magazines and live cartridges from a truck on specific intelligence. However, ISI will certainly make all out effort to carry out a major terrorist attack in India as it is essential to satisfy the common Pakistani.
Pakistan should reconcile with the present scenario in J&K as the situation will not be reversed. Hence Pakistan army should reduce its size and decrease the excessive money spent on its maintenance. The army should also stop interfering in security and foreign policy of the country and should leave these issues on elected government. If ISI stop abetting diverse terrorist outfits which are carrying out terrorist activities in India and Afghanistan and dismantle the infrastructure to help terrorists, the Financial Action Task Force (FATF) would take the country out from grey list and it will improve the financial state of the country. The excessive amount spent on army and carrying out terrorist activities in neighbouring countries can be utilised in the progress of the country. It is a golden opportunity when Pakistan can be out from the obsession of Kashmir and the meagre resource of the country can be utilised in welfare of the poor countrymen.
(Jai Kumar Verma is a Delhi-based strategic analyst and member of United Services Institute of India and Institute for Defence Studies and Analyses. The views in the article are solely the author's. He can be contacted at [email protected])