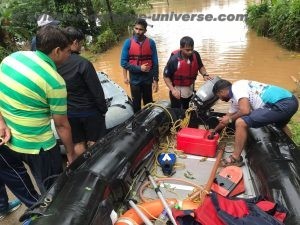 New Delhi. 10 August 2018. Southern Naval Command continued Operation Madad with all available resources at its disposal, due to the unprecedented flooding experienced in many parts of Kerala, owing to incessant rainfall and release of excess water from Idukki and other dams. Based on a request received from Deputy Collector, Wayanad, one diving team with Gemini inflatable boat was airlifted and sent to Kalpetta at 2200h on 09 Aug to undertake rescue operations due to floods and landslides.
Three teams with Gemini boats commenced rescue operations at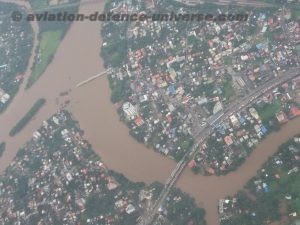 Panmarum (13 km south of Mananthwady) and had evacuated 55 stranded people till 1200h on 10 Aug 18. Three additional diving teams have also proceeded to the affected areas for augmenting the rescue operations. Two more diving teams for relief operations are standby at Aluva in coordination with the Deputy Collector in anticipation of flooding expected in Ernakulam and Aluva.
In addition, the Command Hospital, INHS Sanjivani and community kitchen of INS Venduruthy are kept standby for rendering any help needed. Naval helicopters are also being deployed for ferrying divers, power tools, axes and relief material to the flooded areas to augment ongoing relief operations.