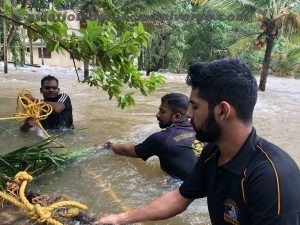 New Delhi. 20 August 2018. The Southern Naval Command started scaling down #OperationMadad consequent to rains having reduced to a large extent and flood waters starting to recede from many waterlogged areas in Kerala. As of 4:30 pm on 20 August, the eleventh day of #OperationMadad, the total number of diving teams deployed had been reduced to 51, with 41 teams having returned after completing their rescue mission. A total of 350 people were rescued by boats on 20th Aug, taking the total rescued to 15,993. No requests for rescue by airlift were received; however, 35 air sorties amounting to 62 hours of flying were undertaken by various naval aircraft, mainly for air dropping of relief material – especially food and water.
A total of 20 rescue teams with one Gemini boat each are deployed in Ernakulam district. One team is at Pizhala island, one at Edapally, seven at Perumbavur, three at North Paravur, one at Aluva and seven at Kadangallur. In Pathanamthitta district, 21 teams are deployed at Chengannur and nine are positioned at Thiruvalla.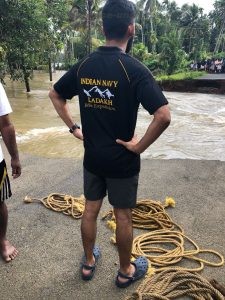 One specialist diving team airlifted to Kannur successfully undertook diving operations at Pazhassi Dam and was successfully able to remove mud from a landslide blocking the water pumping mechanism, which has enabled restoration of the primary supply of water to Kannur city. Ongoing heavy rains and flash floods had led to increased water levels at the dam. Due to heavy siltation, the water inlet chamber at the bottom of the Dam had got choked. Accordingly, naval diving assistance was requested by District Collector. The team worked tirelessly in difficult conditions such as strong water flow, poor underwater visibility, lack of reference position and heavy rains.
Based on a request received from civil authorities, another rescue team was dispatched to Thrissur district, which was able to save 109 lives. A bridge across a stream had broken and 109 personnel were trapped on the other side. The rescue team displayed extreme professionalism, innovation and courage in bringing back all the stranded people back to safety. They joined six ropes to make a line across the fast flowing stream, using trees as anchors. The team started to fashion the rescue line at around 1500h on 19 Aug and were able to rescue all the personnel trapped on the other side including infants, ladies, children and senior citizens by 1930h.
In another development, the Naval Air Station, Garuda commenced civil aircraft operations from the morning of 20 Aug 18. Alliance Air (a subsidiary of Air India) was able to operate two flights to Bangalore and one flight to Coimbatore. An Indigo flight also did a trial landing and will be undertaking flying operations from 21 Aug 18. Another sector, Chennai is also likely to get added for flights to and from Kochi.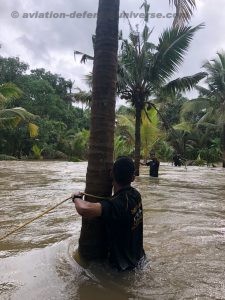 Amrita Institute of Medical Sciences, the largest hospital in Kochi was again provided critical repair assistance by the SNC, who deputed a technical team on 19 Aug 18 with spare pumps and hoses with the target of completely operationalizing the water treatment plant. The team had to literally swim across to the pump house in the flood waters. They were able to shift the pumps and other equipment after fashioning a makeshift raft. The team successfully restored the water supply of the pump house to 92% of its original capacity by 2300 hrs on 19 Aug 18. Thereafter, the team inspected the water treatment site in the Hospital and provided technical guidance and advice to the repair agency working on the pumps, to ensure complete operationalization of the water treatment plant. Further, one spare 40 TPH capacity submersible pump was handed over to the hospital authorities to meet any emergent requirements, if any.
Approximately 150 rescued people are presently being accommodated at the T2 hangar inside the Naval Base, which has been running as a make shift relief camp since 16 August. The second camp being run at the Naval Kindergarten (NKG) School was, however, shut down as the number of rescued persons reduced drastically and many have already left for their home. Another relief camp set up by the Naval Armament Depot, Aluva has also seen reduction in the numbers. The medical camp, however, continues to provide first aid and other treatment for the needy.
A community kitchen set up by INS Venduruthy in the campus of Cochin University of Science and Technology (CUSAT) also continues to offer hot meals for about 3000 people. 17 cooks, 4 officers and 13 staff are working tirelessly to serve all three meals and tea twice a day for the needy.
SNC has also facilitated supply of drinking water to some parts of Kochi city on humanitarian basis as the demand for potable water is acute. A dedicated water bowser, with capacity of 3 tonnes, kept ferrying fresh water to the needy from the water resources in the base.