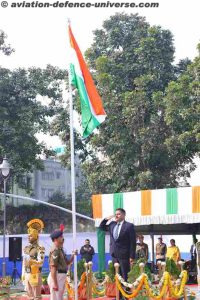 Kolkata. 27 January 2023. India's 74th Republic Day was celebrated with patriotic fervour at Garden Reach Shipbuilders and Engineers (GRSE) Ltd at its headquarters in Kolkata on January 26, 2023. The shipyard has cause to celebrate. Over the last 12 months, GRSE has contributed immensely to the country's 'Atmanirbharta' pledge by launching and delivering several vessels, not only to the Indian Navy and Indian Coast Guard but also to friendly foreign countries like the Cooperative Republic of Guyana.
The celebration at GRSE Bhawan started with unfurling of the National Flag by Cmde P R Hari IN (Retd), Chairman and Managing Director, GRSE, in the presence of Shri Mihir Kumbhakar, CVO, GRSE, Sr Comdt Shashi Ranjan, CISF and other senior officials and employees of GRSE, followed by the National Anthem. On this occasion, impressive 'rifle drill' and 'pistol drill' were displayed by the Central Industrial Security Force (CISF) that is in charge of security at GRSE.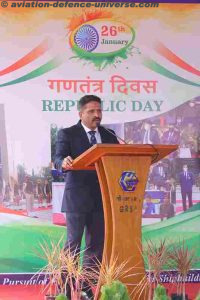 In his address, Cmde PR Hari, IN (Retd.), CMD, GRSE highlighted the declaration of 'Purna Swaraj' by leaders of India's freedom struggle, 93 years back on 26th January 1930, clearly indicating their intent to free our country from colonial rule. CMD, GRSE mentioned that it took 17 and a half years of sustained struggle to attain independence and India enacted the constitution on 26th January 1950. Over the last 7 and a half decades 73 years, the nation has grown from strength to strength, and today India is a mature, robust, sovereign republic and the whole world looks at India for showing the path towards the future. He acknowledged this year's theme of the Republic Day "Jan Bhagidari" that is participative governance as one of the best themes as people are the cornerstone of any democracy. He reiterated the need for one and all to participate in celebrating such occasions as these celebrations are a constant reminder to us that Freedom does not come free and also what it takes to attain freedom and what it must take to retain and sustain freedom.
While greeting all officers and staff of GRSE on the occasion of Republic day, mentioning the Company's commendable performance, the CMD appreciated the role of the CISF for providing adequate security to the shipyard that handles classified projects for the Indian Navy and Coast Guard. He also congratulated the support functions i.e housekeeping staff, drivers, the office support staff, and Data Entry Operators for their contribution and acknowledged their role in the operations of the shipyard. In conclusion, he said, "As GRSE, our role is well defined, as a premier warship building company of the country, a defence public sector undertaking, our job is to build ships on time and with quality. Over the last one year, we have delivered one warship to the ICG, we have completed the technical acceptance of an export platform, we have launched six ships, and laid the keel of six more ships. I congratulate each one of you and place on record my deep appreciation to all the departments of GRSE for the credible milestone achievements. In the current environment, the mantra is very clear, "Perform or Perish", and in GRSE's dictionary, there is nothing called perish. It is Perform to win!"