Coventry, UK. 03 June 2020. Armour provider, NP Aerospace, has signed a partner agreement framework with vehicle OEM, Supacat, to deliver platform capability improvements for the UK Ministry of Defence protected mobility fleet.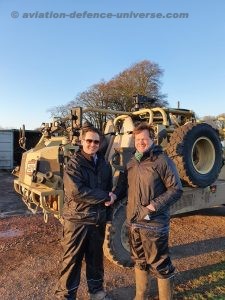 NP Aerospace is the engineering authority for the MoD's fleet of 2,200 Protected Mobility Vehicles until 2024* following the award of a £63m contract in January 2019. Supacat is the OEM and design authority for the Jackal and Coyote base vehicle platforms. Under the MoD's PMETS (Protected Mobility Engineering & Technical Support) contract, NP Aerospace and Supacat are delivering capability improvements across numerous domains including environmental, safety and technical innovation.
James Kempston, CEO, NP Aerospace, comments: "As design authority for the Jackal and Coyote platforms, both of which rely on superior mobility and tactical awareness – Supacat brings a wealth of expertise to the team. Tasking collaboration through the MoD PMETS contract ensures we are able to deliver platform capability improvements that will have a major impact on the UK armed forces on operation, in the shortest timeframe possible and via the most cost-effective means. Having a lead engineering authority across multiple vehicle OEMs** delivers value for money through component and system commonality."
The vehicles covered under the PMETS contract include the Mastiff, Wolfhound, Ridgback, Buffalo, Choker, RODET, Foxhound, Jackal, Coyote and Husky. NP Aerospace works with all of the vehicle OEMs for the MoD protected mobility fleet including General Dynamics, Navistar and Supacat.
Nicholas Ames, Chief Executive of SC Group, parent of Supacat, comments: "Supacat has a long-established relationship with NP Aerospace as a major armour manufacturer and vehicle integrator with a long-standing heritage in lightweight ballistic composites and vehicle programmes. This is an exciting opportunity to work together once again, for our customer to benefit Jackal and Coyote and potentially other vehicles in the fleet.  We are both agile SMEs and our partnership enables us to introduce new technologies and tailored modification packages that ensure vehicles remain safe and supportable and can meet changing operational requirements."