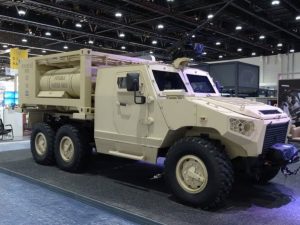 Abu Dhabi.  19th February 2017. NIMR Automotive, a subsidiary of the Emirates Defence Industries Company (EDIC), has unveiled its latest vehicle platform, the HAFEET 620A . A WEW 2.3m3 water tank with its own pumping and UV radiation module has been mounted to the armoured 6×6 utility and logistics vehicle.
The collaboration between NIMR and WEW/Thielmann demonstrates a highly mobile and flexible means of providing water for patrols operating in remote areas.
Dr. Fahad Saif Harhara, CEO of NIMR Automotive, said: "Today's threat environment no longer affords the ability to have soft-skin logistic support vehicles behind the front-lines due to multiple attack fronts.  The NIMR HAFEET 620A ensures critical front-line support is maintained whilst ensuring the safety of logistic personnel. Equally, the collaboration with WEW is a prime example of how we can customise our vehicles to address a wide range of operational requirements."
The HAFEET 620A is a highly mobile 6×6 protected vehicle which provides the essential combination of payload, mobility, and protection. It features a two-man cabin and a large cargo bed, designed to optimise payload capacity for the integration of various systems, such as the WEW 2.3m3 water tank.
The stainless steel WEW tank can be fitted with a variety of pumping, preservation and chiller systems to provide cool water whenever required.  The WEW tank on display is a 10ft BiCon configuration utilising international standard locking bolts.   Similar systems are available for the transport of fuels allowing for resupply during extended operations.
The HAFEET 6×6 is a multipurpose 15,000kg gross weight platform which can be configured in a variety of roles from utility to a fully protected patrol vehicle. In the utility role it has a payload of up to 5,000kg.  Common to all variants is a universal 6×6 chassis for a common logistic footprint to minimise the training, maintenance and spare parts inventory.  All variants in the HAFEET Class can be supplied in both protected and unprotected versions, with the protected range fully certified to international standards.
ional standards.