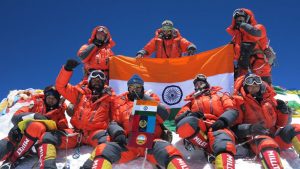 Woman power makes India proud
New Delhi.  26 May 2016. The NCC Girls Mt. Everest Expedition Team has successfully scaled the world's highest peak on May 21 and 22, 2016. They scaled the peak after dividing themselves into two teams, where the first team led by the Expedition Team Leader Col Gaurav Karki, reached the summit on May 21, 2016 and the second team led by Lt Col Vishal Alhawat reached the top on May 22, 2016 making it a first ever successful expedition by the NCC Girls Team. This is an extraordinary achievement as all ten girl cadets of the expedition team are between the age group of 17 and 21 years.
Earlier, the team led by Col Gaurav Karki reached the base camp on April 21, 2016 and established four camps enroute to acclimatize the team at high altitude. Camp I and Camp II were at an altitude less than 7000m whereas Camp III and Camp IV were established at an altitude of less than 8000m. Having fully acclimatized the cadets waited for favourable weather to climb the summit.
The team had trained hard for the Mt. Everest mission. Selection of officers and staff was carried out from January to June 2014. Thereafter 100 cadets were selected by trials held pan India. The selected cadets then underwent a special mountain course at Himalayan Mountaineering Institute (HMI), Darjeeling. Pre-Everest Expedition to Mt. Deo-Tibba (19688 ft), near Manali in Himachal Pradesh was conducted for 40 cadets in April to May 2015. 15 cadets were selected for the next phase based on their performance.
In August 2015, the team set off on second Pre-Everest Expedition to Mt. Trishul (23360 ft), and selected 10 girl cadets for the Everest Expedition. These ten cadets thereafter did a month long intensive winter training in Siachen Glacier at the Indian Army's Siachen Battle School, before setting course for Nepal.
The aim of mountaineering expeditions in NCC is to strengthen the character and instil qualities of courage, comradeship, discipline and leadership among the cadets. NCC has always been in the forefront of adventure activities. The first mountaineering course for NCC Cadets was conducted for 42 days at HMI, Darjeeling in 1961. Every year, NCC sponsors 354 boy and girl cadets for various mountaineering courses at HMI, Darjeeling, NIM Uttarkashi, ABVIMAS Manali and JIM & WS Pahalgam.
Mountaineering Expedition as an adventure activity was introduced in NCC in the year 1970. Since then, NCC conducts two mountaineering expeditions every year, one each for boy and girl cadets thus having launched more than 70 expeditions to various peaks.