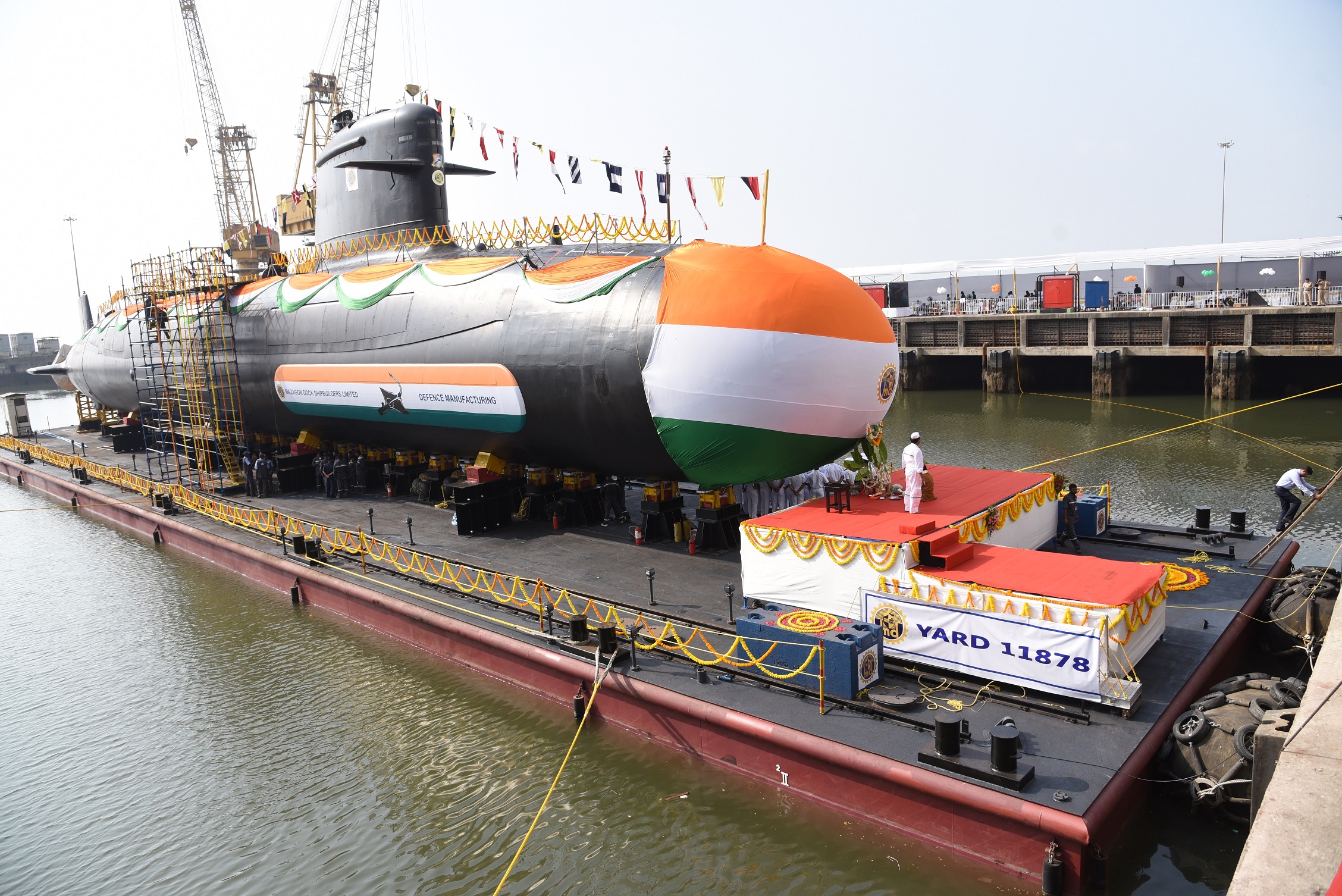 Drones are force multipliers for maritime superiority
By Sangeeta Saxena
Paris/New Delhi. 24 July 2023. As the geopolitics of the world is becoming more and more complex, so is the global combat environment with seas and oceans becoming major bones of contention. And this has resulted into a constantly developing naval fight component and futuristic technologies, hence militaries throughout the world are looking to preserve maritime superiority. Unmanned aerial vehicles, or drones, have changed military operations on land, in the air, and now even in the vast oceans of the planet. These adaptable and technologically advanced tools have been integrated into naval forces, giving them the ability to overcome obstacles and expand their strategic reach like never before.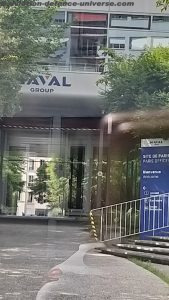 Recently the French defence major Naval Group in a media interaction with Indian journalists covering PM Narendra Modi's France visit, discussed it's development and integration of drone systems to increase the ships' operational capabilities. In addition to Naval Group's India story the OEM officials also introduced their foray into the cutting-edge unmanned technologies which will give any navy a maritime edge and advantage. On a day prior Bastille Day Parade Naval Group invited the journalists at it's Paris HeadQuarters.
The use of drones in navies has many benefits, from ISR (intelligence, surveillance, and reconnaissance) operations to accurate and lethal strikes against enemies. These unmanned systems act as force multipliers, helping navies accomplish their goals with less dangers  because they can perform operations from remote locations and reach difficult-to-reach areas. As a result, they have altered the nature of naval operations in both conventional and asymmetrical situations, enhancing traditional fleets in the process.
It may be recalled that a couple of months ago , on 04 May 2023, the French defence procurement agency (DGA) awarded Naval Group a new contract to study the design of a future Unmanned Combat Underwater Vehicle (UCUV). The nine-month study will allow Naval Group to examine principal use cases and develop system architectures for an Unmanned Combat Underwater Vehicle.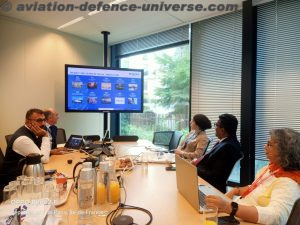 Soumyajyoti Basu , Director Services & Development for Naval Group reiterated the company's strong foray in unmanned systems' production and stated that it is making the UAV system for the French Navy (SDAM) in partnership with Airbus. The Naval Group and Airbus Helicopters cooperation had received a contract from the DGA for the development of technology related to rotary-wing drones in 2018. Before the building of a future tactical helicopter drone demonstrator aboard warships, de-risking investigations were covered by the contract. Trials of the drone launch system, mission system, and airborne vehicle were to be done from a French Navy warship as part of the demonstration project. Identifying, deploying, and testing the technologies required for the integration of a tactical drone-system capacity within a heavily armed vessel is the goal of the contract that the DGA has awarded. It is a component of the SDAM (Navy Airborne Drone System)'s development, whose deployment is anticipated for the middle of this decade. Hélicoptères Guimbal, Safran, Thales and ONERA will be their principal subcontractors.
Navies now rely heavily on their unmanned aerial vehicles (UAVs). These UAVs are essential for missions involving intelligence gathering, surveillance, and reconnaissance since they are outfitted with advanced sensors and cameras. UAVs greatly increase the situational awareness and response capabilities of the Navy, enabling tasks like monitoring marine traffic, spotting possible threats, and assisting in search and rescue missions.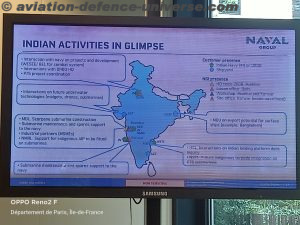 Recalling Indian activities of the Naval Group, they went ahead to inform that the company has also been developing the Ocean-going underwater drone system, called Large ocean-going Unmanned Underwater Vehicle (LUUV) which are likely to revolutionize the naval combat techniques to counter drone swarms or supersonic missiles. Naval Group had launched the design and development programme with internal funding in 2016, with the design phase taking about two years, followed by the development, construction and integration activities till 2020. Thales supplied the sensors suite and the start-up Delfox, created the Artificial Intelligence (AI) to reconfigure its mission and its trajectory, according to the evolution of the situation. This LUUV has been designed for long-range intelligence, surveillance, reconnaissance, alongside dedicated protection, underwater detection missions in support of a carrier strike group, surface ships and submarines.
Unmanned aerial vehicles (UAVs) have been installed into Naval Group's ships to improve situational awareness, surveillance, and reconnaissance capabilities. These UAVs have cutting-edge sensors and cameras that give naval crews access to data and intelligence in real-time. In both peacetime and combat situations, they are crucial in monitoring marine traffic, spotting potential dangers, and carrying out reconnaissance missions.
D19 tactical underwater drone system is another feather in the French major's cap. It is the first autonomous underwater military drone developed by Naval Group for use by surface ships and submarines, created with a variety of roles in mind, including ISR, electronic warfare, training, maritime interdiction, etc., by using its expertise in torpedoes and movable underwater targets. It is built on top of an F21 torpedo base is the D19 UUV. In this manner, Naval Group makes use of the knowledge it has gained via the creation of this torpedo. A lithium-ion energy portion drives the D19.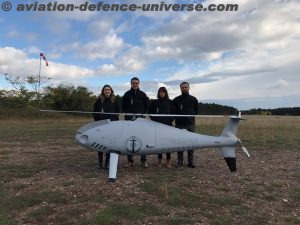 Naval Group continues to be dedicated to continual innovation in drone technology, partnering with academic institutions, business titans, and governmental organizations. By forming these relationships, Naval Group is able to stay on the cutting edge of autonomous systems, enhancing the capability, adaptability, and efficiency of its ships and submarines to tackle contemporary maritime challenges.
Another Naval Group made surface drone system for the surveillance and protection of sensitive infrastructures is REMORINA. It is a 8m unmanned surface vehicle, in the form of a semi-rigid boat. This USV is equipped with an advanced piloting system including, in particular, obstacle avoidance algorithms and can be fully controlled, either remotely through a remote control station or a portable controller. Equipped with a radar and a video camera, this  USV can be used for surveillance and reconnaissance missions.The Remorina is the perfect platform to demonstrate and integrate new technology such as advanced cameras, sensors, non-lethal effectors or systems & solutions like Collision Avoidance System, mission systems etc.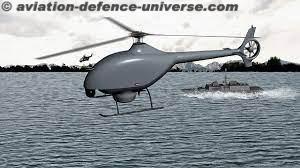 Naval Group continues to reinvent the capabilities of its ships and submarines through the strategic integration of drones, securing its position as a pioneer in the naval manufacturing sector. Utilizing the potential of unmanned technologies, Naval Group is better able to function successfully in a variety of marine conditions, protecting its waters and promoting maritime stability worldwide.
For the end-to-end management of drone operations, Naval Group has created and developed I4®Drones, a system that consists of three major phases: mission planning, deployment and data exploitation, recovery and mission restitution. Naval drone operations can be supervised in any of the three environments—air, surface, or underwater—using the I4®Drones system. This system can be mounted on a surface ship, a submarine, or a command post that is located on land. The I4®Drones system makes it easier to handle drone missions in the context of allied and inter-armed forces coalitions, resulting in higher efficacy and interoperability between drones and ships.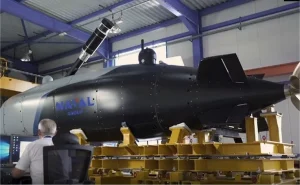 Naval operations are changing, and the French Navy's ability to adapt to shifting geopolitical conditions and new maritime threats depends increasingly on the use of drones. These unmanned systems give the French Navy the ability to carry out a variety of missions effectively and with less dangers to human personnel by offering a variety of capabilities that complement traditional naval weapons.
Indian Navy not only has a long association with Naval Group but also has recently extended it with the order of three more Scorpene submarines announced post Indian Prime Minister's visit to France during Bastille Day. To make itself state-of-the-art and most lethal, a compatible unmanned fleet will be the need of Indian Navy's submarine force.