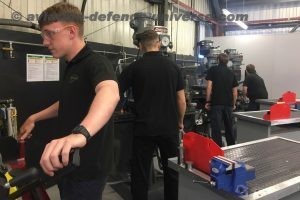 Farnborough .18 July 2018. The new facility will be based at Nasmyth Bulwell in Pinxton, Nottinghamshire, one of the Group's 13 individual precision engineering companies.
The state-of-the-art centre opens on 25th July and will provide its apprentices with an up-to-date dedicated classroom, with a workshop area fitted with a variety of machining and tooling equipment to develop the apprentices' skills and techniques during their training programme.
Apprentices across the group will have access to the new facility allowing development of flexibility within the workforce as a Group, creating a more diverse and inclusive platform for the apprentices to develop.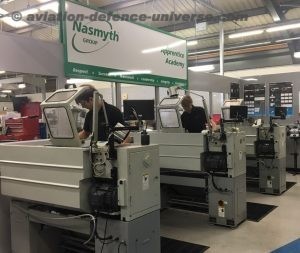 Sean Parker, Apprenticeships Co-ordinator at Nasmyth Group, says of the new centre: "The Nasmyth Academy was born back in 2014 when we had just two apprentices working with us. Since then, the scheme has grown exponentially, with more apprentices joining us each year as word spreads to schools, colleges and the wider industry. Our participants are gaining valuable hands-on experience across many areas of engineering and I am absolutely thrilled that they now also have this exciting space to call their own."
Nasmyth Group believes that keeping the UK at the forefront of industrial design and manufacturing requires substantial investment in the future generation of engineers. The Academy proves the Group's commitment not only within its local communities but across the country. Ensuring the success of the Academy requires dedication not only from the company but also from the schools, colleges and training providers in order that the quality and delivery of the apprenticeship scheme creates a 'flight path' of future success.
Nasmyth Group already employs a large number of women and the Academy aims to open the door to encourage more women into engineering and to create STEM ambassadors.
Apprentice Louis Coxon, who is in his third and final year of the Nasmyth Academy training scheme, commented: "Having our very own dedicated centre will really help me and my fellow apprentices as well as those who come after us. It will help us both with our hands-on learning and our written assignments."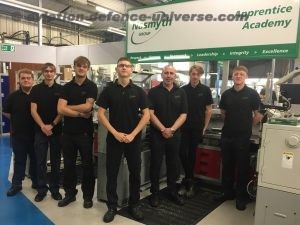 As part of its commitment, Nasmyth Group is sponsoring Futures Day at the 2018 Farnborough International Airshow. Futures Day takes place on Friday 20th July and focuses on careers, training and skills in the aerospace industry. Twenty Nasmyth Academy apprentices will attend the show to discuss their own experiences and the options available for training with the scheme. Representatives from Nasmyth Group companies, as well as Nasmyth Academy trainers and supporters, will also be on the Nasmyth Group stand 4034 in Hall 4 to provide further details about the popular scheme.