Honoured in recognition for MIAL's outstanding contribution in the area of energy efficiency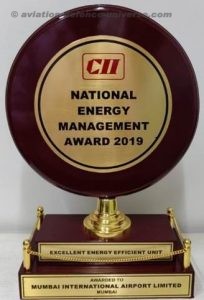 Mumbai. 25 September 2019 . In yet another feat for Chhatrapati Shivaji Maharaj International Airport, the airport was conferred with the prestigious 'Excellent Energy Efficient Unit' Award by the Confederation of India Industry (CII) at its 20th National Award for Excellence in Energy Management 2019. Managed by GVK Mumbai International Airport Ltd, the award lauds MIAL's tireless efforts in sustainable and green initiatives – particularly in assessing the trend of reduction in specific energy consumption, innovation in identifying and implementing energy saving projects, green supply chain, GHG and climate change initiatives. The award ceremony was held between 16-18th  September 2019 at Hyderabad.
Mumbai's Chhatrapati Shivaji Maharaj International Airport has accomplished numerous developments to address the challenges of climate change under environment management. Among the many initiatives undertaken by Mumbai International Airport – carbon management system, carbon neutrality, renewable energy installations, wastewater recycling, effective waste management system are some of the projects that the airport has been a forerunner in terms of controlling the environment. Furthermore, MIAL is the first and the only airport in India to publish the Sustainability Report as per latest GRI Standards. Also, the first Indian airport to hold the platinum rating within the Existing Building (O&M) Rating System for its environmentally sustainable profile. Similarly, the airport also owns an Organic Waste Converter (OWC) project, a bio mechanical composting system at MIAL having a capacity of 1MT/day.
The OWC facility also boasts of a solar capacity of 5 kWp for providing green power for its operations. Additionally, compost generated from the system is used internally for gardens & horticulture purposes. In line with its other green and energy efficient initiatives, MIAL keeps a close tab on noise management, air quality monitoring, waste management and climate change helping maximize its efficiency with minimum damage to the environment. Despite certain limitations, CSMIA is proactively initiating activities towards an environmentally conscious airport.
The Mumbai International Airport with 4.02 MWp of roof top solar power capacity generates maximum green power. Likewise, an addition of 1.5 MWp is also planned to accelerate its power generation through green practices. Among the many awards and accolades, MIAL was also honoured with the prestigious Gold award at the ACI Asia-Pacific Green Airports Recognition 2019 for its implementation of outstanding environmental projects in the month of April 2019. And with this new recognition, GVK MIAL stands out as one of the best companies within the industrial sector in the area of energy management.