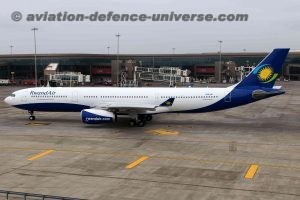 Mumbai. 25 June 2019. In a bid to create more opportunities for the traders from India and China, Mumbai International airport takes a step further to improve the export of goods and services from both the countries. The GVK led Mumbai International Airport Limited (MIAL) welcomed RwandAir's newest route from Mumbai to China's third largest city of Guangzhou starting June 2019. Functional with the Mumbai International airport since the last two years, RwandAir is the only foreign carrier operating in India using the 5th freedom rights to go beyond to China. Inaugurated by Rwanda's State Minister for Transport Eng. Jean de Dieu Uwihanganye and RwandAir's chief executive Yvonne Makolo, the airport along with its key stakeholders welcomed the RwandAir's first flight – Airbus A330 with 234 passengers on board at Mumbai. Making it hassle-free for the travelers, the service will be available thrice a week: Tuesday, Thursday and Saturday.
Mumbai being the financial capital of India plays an important role as the country's gateway to Africa. The new route from Mumbai International Airport is sure to boost trade amongst these countries. Through RwandAir's latest addition, the travel time between the two countries has reduced to 6 hours and 20 minutes easing the way passengers travel to China and back. A port city on the River Pearl, Guangzhou is one of the major shopping destinations for merchants across the world. Guangzhou being one of the major trade capitals for China, the new route will help traders from India travel to China and shall subsequently see an increase in their business travels via Mumbai. The route greatly benefits small business owners and mid-sized Indian traders from catchment areas like Chennai, Bangalore, Kochi, Ahmedabad and Hyderabad to expand their Indian businesses to markets beyond their usual reach.
RwandAir's flights will make it easier for the traders from China and India as well as tourists to travel to either of the destinations, thus boosting economic activity between the two countries.