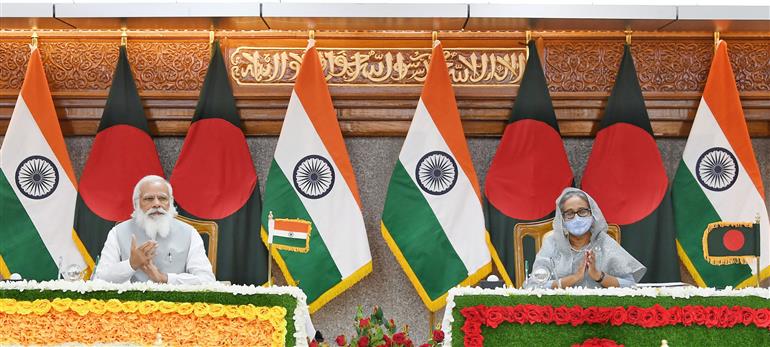 Past relived, present brainstormed & future on a platter
By Jai Kumar Verma
New Delhi. 31 March 2021. It was warm welcome, neighbourhood first, friends forever, future allies, past bonds and violent protests all rolled into one for Indian Prime Minister Narendra Modi, in Dhaka last week.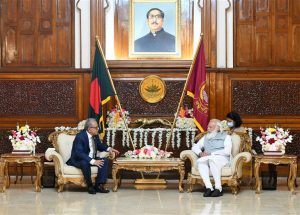 Modi's two-day visit to Bangladesh which commenced on 26 March was his first foreign visit after the outbreak of COVID-19 and elections campaigns of Assam and West Bengal could not deter him from attending the 50th Independence Day celebrations of Bangladesh and Dhakha responded in the same spirit with Prime Minister Sheikh Hasina receiving him personally at Hazrat Shahjalal International Airport in Dhaka, honouring her Indian counterpart with a 19-gun salute and Guard of Honour along with rolling out the red carpet.
In the presence of both the Prime Ministers five MOUs were signed covering diverse areas, three border Haats were inaugurated, foundation of Rooppur Nuclear Power Plant was also done. 109 life -saving ambulances and 1.2. million doses of COVID vaccine were also donated.
Modi meeting the Matua delegation and visit to Thakurbari which is the most sacred pilgrimage site for Matua community, fetched brick bats from many including Chief Minister Mamata Banerjee back home. Not deterred he offered prayers at Orakandi and Jeshoreshwari temples, paid tributes to Sheikh Mujibur Rehman and signed visitors book at Bangabandhu Mausoleum Complex.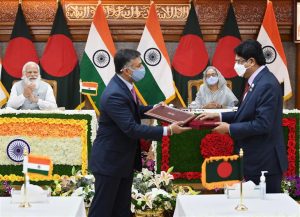 Modi also met President Abdul Hamid and had bilateral talks with Prime Minister Sheikh Hasina. Sheikh Hasina in her speech mentioned that "I thank the govt of India and Modi in particular for awarding Gandhi peace to Sheikh Mujibur Rehman. I extend gratitude to PM Modi and people of India for being helpful during the pandemic." In her speech she appreciated the help and assistance from all Indians. She stated that " All political parties of India are always united in one issue and that is being with the people of Bangladesh. We share Historical, cultural, geographical ties. India has sheltered 1 crore Bangladeshis, who fled from Bangladesh because of the atrocities of Pakistan. By the joint operation of both countries, victory was achieved. A notable number of Indian soldiers sacrificed their lives. Self cooperation and contribution by the people of India can never be forgotten."
Modi during his two-day visit also met Opposition leaders, Foreign Minister of Bangladesh, young achievers, freedom fighters, former cricket captain, members of minority community etc. Modi wore "Mujib Jackets" during his visit. The heads of state or heads of government of Nepal, Sri Lanka, Bhutan, and Maldives were also present at the 50th Independence Day ceremonies however prime minister Modi was the chief guest. On March 26 Pakistan Prime Minister Imran Khan sent a congratulatory message to Sheikh Hasina on the 50th Independence Day of the country and also invited her to visit Pakistan. Imran Khan also mentioned that Pakistan wants to have strong ties with Bangladesh.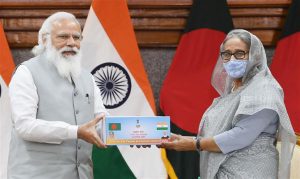 In December last year Pakistani High Commissioner in Dhaka also met Sheikh Hasina to strengthen the ties between both the countries. Bangladesh Prime Minister expressed "good wishes" for Pakistan. Afterwards Imran Khan also talked to Sheikh Hasina on phone. All these moves indicate that Islamabad is keen to improve relations with Bangladesh. However, the intelligence fraternity feels that Pakistan is developing cordial relations with Bangladesh on behest of China. Beijing considers India as its potential rival hence it is not only winning India's neighbours but is also encircling it. Secondly in past Inter-Services Intelligence (ISI) was using East Pakistan and later Bangladesh for assisting separatist outfits of North Eastern States of India. There were reports that ISI was running terrorist camps in Bangladesh where training was imparted to Indian secessionist groups. Nonetheless Sheikh Hasina ordered to close all the terrorist camps and ISI agents were either arrested or thrown out of the country. Hence ISI is keen to have cordial relations with Dacca so that ISI can launch transborder operations against India from Bangladesh.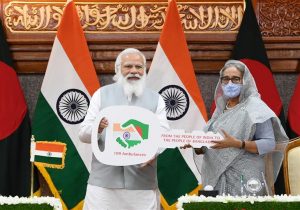 Pakistan is passing through an economic crisis and it is becoming difficult for it to repay the foreign loan. The Financial Action Task Force (FATF) which develops policies to combat money laundering and keeps an eye on terror financing had kept Pakistan in 'grey list' as it is financing, training, and sheltering to diverse terrorist outfits. FATF is also threatening Islamabad to downgrade it to 'black list' if it continues helping terrorist organisations. The foreign reserve of the country is in precarious condition, while Bangladesh is doing much better, and it emerged as second largest exporter of readymade garments. Bangladesh's economy is seventh fastest growing economy in the world. Hence to detract the attention of Pakistani public from the economic achievements of Bangladesh, Imran government conducted a flight test of surface-to-surface ballistic missile on 26 March.
The ISI supporters instigated Islamic extremists, and the activists of Hefazat-e-Islam organised anti-Modi protests at several places in Bangladesh. In these protests at least four persons were killed, and several others injured at Chittagong. The left-wing students, pro-Chinese and anti-India elements also joined the protests and demonstrations. Although the protests were continuing before the arrival of Modi in Bangladesh but after his arrival on 26 March after Friday prayers the demonstrators clashed with security force personnel and raised anti-Modi slogans . Hefazat-e-Islam is a coalition of few Islamic outfits which does not believe in secularism and traditionally it is close to Jamaat-e-Islami and Bangladesh National Party (BNP) which is main opposition party and close to Pakistan. During the regime of BNP, ISI was running terrorist training camps in Bangladesh and was infiltrating terrorists in India. Hefazat is anti-India outfit and large number of its activists are the product of Saudi-funded madrassas.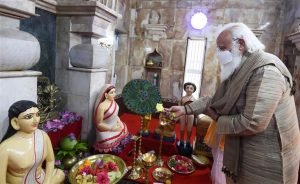 In 2018 China replaced USA as biggest investor in Bangladesh. Chinese investment grew after the visit of President Xi Jinping to Bangladesh in 2016 and also under Belt and Road Initiative (BRI). China promised about $40 billion investment out of which $24.45 billion was for infrastructure development and $13.6 billion was in joint ventures. Beijing also promised loan of $ 20 billion. China has also given duty free access to 97 percent of Bangladeshi products w.e.f. 1 July 2020. At present bilateral trade is fully in favour of China and Bangladesh's trade deficit with China rose to 1600% in last 20 years. China mainly imports raw material from Bangladesh and exports finished goods including electronic items, fertiliser, cement, tyres etc.
Beijing is an important arms supplier to Bangladesh and supplied tanks, missile boats and fighter planes. Both countries have already signed "Defence Cooperation Agreement" under which Bangladesh defence personnel are trained in China. In 2008 Dacca also test fired anti-ship missile and supplied a frigate to Bangladesh.
Both China and Pakistan are trying to woo Bangladesh albeit with different purposes. Islamabad with the help of fundamentalist Islamic parties wants to use Bangladesh for its anti-India activities. However, China wants to use Bangladesh for encircling India as well as a promoter of The Belt and Road Initiative (BRI). China's loan which it gives for development of infrastructure is not on soft terms and it may create a problem at a later date. Sri Lanka lost Hambantota port because it could not repay the loan. The control of Gwadar port is already slipped from Pakistan and China is controlling it. Baloch leaders claim that China Pakistan Economic Corridor (CPEC) is not in the interest of Pakistan as China intends to exploit the mineral resources of Balochistan.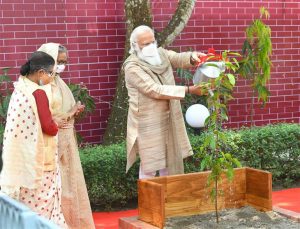 China watchers claim that Beijing's overture of duty-free access to Bangladesh products has no practical significance and Bangladesh businessmen would not be able to avail the concession as China has strict Rules of Origin criteria. More business relations with China may not be in interest of Bangladesh and a developing economy may fall into distress and despair. China under the garb of duty concession may push Bangladesh into a 'debt trap'. India is genuine friend and will assist Bangladesh under 'neighbourhood first' policy although it does not have deep pockets like China hence its financial assistance will be limited.
(Jai Kumar Verma is a Delhi-based strategic analyst and member of United Services Institute of India and Institute for Defence Studies and Analyses. The views in the article are solely the author's. He can be contacted at editor.adu@gmail.com).