Creating an immediate secure private communications bubble, CellBOX-R is an ideal solution for Search & Rescue teams in disaster situations, and for military forces operating in remote areas
Defense & Security 2017, Bangkok, Thailand, November 6-9, Israel Pavilion, Stand E28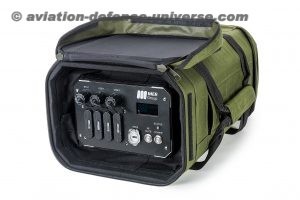 November 2nd, 2017. MER Group – a leading innovator in the areas of homeland security, cyber, intelligence, communications – infrastructure & tactical, emergency services, and more – launches CellBOX-R, a next-gen compact, mobile LTE network, at Defense & Security Thailand 2017. Creating an immediate secure private communications bubble, CellBOX-R is an ideal solution for Search & Rescue teams in disaster situations, and for military forces operating in remote areas without communications infrastructure.
According to Brigadier General (Ret) Yaron Livnat, General Manager Defense & Technology Division, "The failure of communications infrastructure – or the complete absence of infrastructure – is not uncommon. This happens frequently in military operations carried out in remote areas, in the aftermath of natural disasters, in urban warfare, and other situations. Most of the available solutions are cumbersome, heavy, non-portable, complicated and expensive. We developed the CellBOX-R to provide a compact, cost-effective solution to this acute problem."
CellBOX-R is fully independent, delivering a complete autonomous LTE within a designated area. Quick to deploy, it features intuitive web-based management tools for operation and administration, and enables prioritizing each service for each user. Local advanced applications include PTT, video, chat, Situational Awareness and sharing of files, video & images. Providing bi-directional video communications and optional 3G/4G SAT backhaul among other applications, it enables improved ad-hoc coverage within buildings, communications for convoy escorting, coverage in remote and isolated locations, and more.
Brig. Gen. Livnat further remarked, "CellBOX systems are already in use by our customers and are highly praised. The new generation includes an advanced power system that enables extended use. We have also expanded the range of applications, especially in the area of video transmission, as well as a new graphical display. The new system also features an integrated RoIP (Radio over IP) module, GPS, and a Wi-Fi hot spot."
MER Group will also display the CellBOX-R at Milipol Paris (November 21-24) and Expodefensa Colombia (December 4-6).