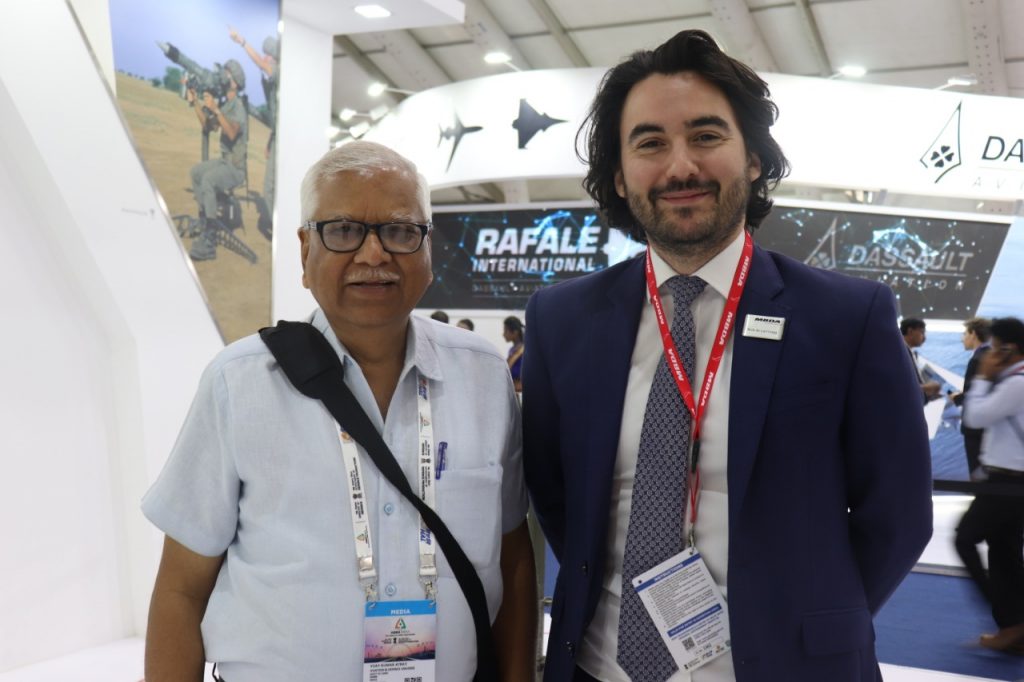 Nick De Larrinaga Of MBDA UK Head of Media Relations | Communications Directorate
At MBDA & Incharge of Communications, India, in conversation with ADU at Aero India 2019. (Transcribed Video)
Welcome to the MBDA booth here at Aero India 2019. I'm Nick de Larrinaga, and I'm responsible for communications at MBDA group in India. Behind us we have the full range of air dominance weapons of MBDA exhibiting at Aero India, the majority of which already coming into service for the Indian Air Force. Behind us we have the mica air to air missile, in both its radar guided and infrared guided forms. Mica is being introduced in service for the Indian Air Force past the mirage 2000 upgrade program. Its also being introduced on the Rafael, as you can see here in this configuration. To my left we also have the meteor air to air missile. Meteor is widely regarded as a game changer, in air combat technology. It brands a propulsion system and data link, this gives us an unmatched no escape and so it's several times higher than any other air to air missile. Meteor is again been used in service for the Rafael program for the Indian Air Forces.
So, one of the other systems we are exhibiting at Aero India is the MISTRAL system. MISTRAL is a short range, air defence system and it's been selected by the Indian Air Force to protect their helicopters. So on the ATAM system, which carries two MISTRAL missiles per launcher, helicopter can carry four MISTRAL missiles, provide the ability to engage other aircrafts, helicopters or fast jets. It's here behind us, you also see it outside in the flight line on both ALH and LCH helicopters. On our left we have it in the V Show Red Roll, so this is the same missile but here, in the man portable configuration to provide air defence for ground forces. Now, we believe there's a really strong argument in favour of operating one missile across other functions because you are able to maintain fully stockpiles, you're able to train on just one missile, you're able to train maintenance on just one missile and maintain one missile. So you get significant amount of cost and operational benefits in doing so.
Other missiles on display at MBDA is ASRAAM, they are next generation combat missiles. It's been selected by the Indian Air Force for the jaguar upgrade program and it's also being evaluated for a range of other platforms. You can see it here at the stands at the show. For example it's on display on a number of Indian and other platforms.