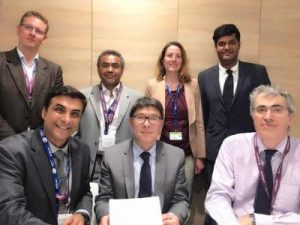 A Safran-Maini decade plus long relationship develops further
Le Bourget. 24 June 2017. India's Maini Precision Products (MPP) will manufacture the low-pressure turbine (LPT) guide vanes for LEAP engines. They sealed the deal with  Safran Aircraft Engines by signing a contract  at the show. It is another filip to the Make in India  in Defence and aerospace sector.
Dominique Dupuy, Senior Vice President for Purchasing at Safran Aircraft Engines, and Gautam Maini, Managing Director of Maini Precision Products Limited, signed the ten-year contract, with Bruno Durand, Senior Vice President, Manufacturing & Supply Chain, Safran Aircraft Engines, also in attendance.
These sophisticated guide vanes will be manufactured at a new MPP plant now under construction in the Bommasandra Industrial Area in Bengaluru, Southern India. This contract represents a significant rise up the technology value chain for the Indian aerospace industry, and will also pave the way for Safran and Maini to examine other opportunities for the manufacture of critical aero-engine parts in India. At the same time, this project significantly expands Safran's presence in India.
Following the contract signature, Dominique Dupuy, Senior Vice-President for Purchasing at Safran Aircraft Engines, said, "We are delighted to extend our partnership with Maini, which has been a reliable partner for more than a decade. This contract also reflects our solid commitment to the 'Make in India' vision."
Maini's relationship with Safran Aircraft Engines started 12 years ago with the supply of parts for the best-selling CFM56 commercial engine. Since 2015, MPP has also become a supplier on Safran's LEAP engine, successor to the CFM56, and the Silvercrest business jet engine. With this contract Maini expands its contribution to the new LEAP engine, which has gotten off to a very successful start, with more than 14 000 orders.
Gautam Maini, Managing Director of Maini Precision Products, added, "We, at Maini Precision, Products are proud to strengthen our engagement with Safran, a major group that plays a pivotal role in the growth of our aerospace sector. We believe that this milestone agreement validates our capabilities in this sector."