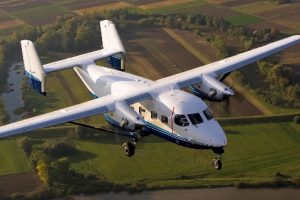 The M28® short take-off and landing turboprop airplane is known for safe and reliable flight in extreme environmental conditions. As a strong candidate to connect Tier II and III cities across India, the aircraft also demonstratesbest-in-class performance, high maneuverability and multi-mission flexibility.
Certificates
The M28 Short Take-Off and Landing (STOL) has two type-certificates recognized in the Aviation Industry —from the U.S. Federal Aviation Administration (FAA) and the European Aviation Safety Agency (EASA). The aircraft also is certified by Indonesia, Nepal, Taiwan and Brazil.
In September 2016, India's Civil Aviation Authority DGCA (the Director General of Civil Aviation) approved the PZL M28 aircraft for commercial operations.
Connectivity for regional cities
"The twin turboprop aircraftoffers a host of excellent characteristics best suited to connect regional cities, particularly in the north-east," says Arvind Walia, Sikorsky regional executive for India and South Asia.
"The aircraft's capability to land safely and easily on grass and gravel airstrips is inherent to the design. Also ideal is its easy conversion from passenger seating to carrying cargo, and of course as a VIP transport vehicle."
He said the two M28 aircraft operated by Nepal were effectively used for disaster relief following the 2015 earthquake.
The 485 cu ft. (148m3) cabin has a full-width aft door to para drop cargo. The cabin can be outfitted with a removable roller floor, optional cargo hoist, and heavy cargo restraints to speed loading and unloading.
Superior power
The 16,500 lb (7,500 kg) M28 aircraft excels in power, payload and range.
Two 1,100 shp (820 kW) Pratt &Whitney Canada PT6-65B turbopropengines deliverhealthypower margins resulting in superior STOL capabilities. Engine power can launchthe M28 aircraft, complete with 19 passengers (or more than 2 tons of cargo) into the air in just 548 meters of runway length.
During One Engine Inoperative emergencies, the aircraft can continue safely in flight even in extremely hot or icing conditions with an OEI rate of climb of 450 fpm (138 m/min) on a Standard day.
Best in class payload and range
The M28 aircraft offers the best-in-class comparison with the payload and range. With over 1000 kg payload on board, the M28 offers a range of 1592 km (860 nm) distance + safety reserve for 45 minutes of flight.
The aircraft can haul 2,300 kg (5,000 lb) over 225 nm (450 km) at maximum weight;192 kt (356 km/hr) — and stall speed at 53 kt with engines idling and flaps extended.
The engine has a range of operation from -50 to +50degrees C.
Heavy-duty landing gear
The heavy dutynon-retractable titanium tricycle landing gear is key to safe landing on unprepared runways.
The main landing gear includes hydraulic brakes that are fitted with an ABS anti-skid system. The nose landing gear is steerable for easy taxi and takeoff.
Avionics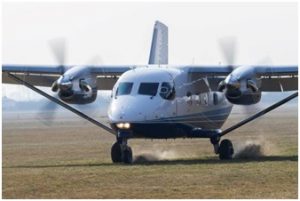 The M28 aircraft alsois equipped with a suite of avionics including the Bendix King Gold Series (made by Honeywell), digital map display, standard VHF/UHF radios (2 each), VOR/ILS/ GPS, MKR, DME, autopilot, ELT and the latest safety features such as TCAS II, EGPWS Mk VI, FA2100 Voice Recorder Assembly, and the SSFDR Flight Data Recorder.
STOL capabilities and high mounted PT6 turboprops allow the M28 to take-off and land on rough strips just 345m long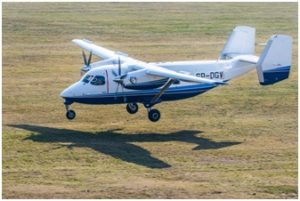 With its large, easily reconfigurable cabin, the M28 airplane is a true multi-purpose, short take-off and landing airplane that is at home operating from paved and unpaved austere runways, high elevation airfields, and in a variety of weather conditions.