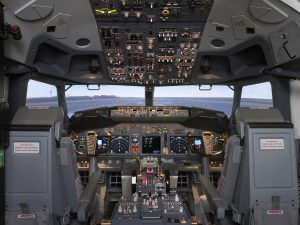 Goose Creek, SC—November 17, 2016. TRU Simulation + Training Inc., a Textron Inc. (NYSE: TXT) company, announced that it has signed an agreement with Flight Simulation Technique Centre (FSTC) to provide a new 737-800W Full Flight Simulator (FFS) in Gurgaon, India.
The sale of the TRU FFS into India will help support the further development of Indian airlines and pilots by providing easier access to advanced training systems in India. This will allow India-based pilots to receive critical training in their home country on this new high-fidelity, highly reliable training and cost-effective device.
"India's air transport industry is now in a position to grow substantially and TRU is excited to be valued and trusted by FSTC.  We are looking forward to helping provide more in-country simulation and training support to further India's air transportation training capabilities," stated Ian Walsh, TRU's President and CEO.
"We are delighted to support the growth of FSTC, a fast growing pilot training center, which in turn continues to support the further development of Indian airlines by offering reliable in-country training solutions," said George Karam, Vice President and General Manager of TRU's Air Transport Simulation division.
The agreement was finalized in October and the 737-800W Full Flight Simulator is scheduled to be delivered to FSTC by the end of 2016. The 737-800W FFS will be installed and certified to EASA level D qualifications at FSTC's training facility, which is easily accessed from Indira Gandhi International Airport.
Captain Dilawer Singh Basraon, owner of FSTC, said, "There will be one more feather in the cap of FSTC with a new Boeing 737-800W level D full flight simulator. This six-axis simulator is provided by TRU Simulation + Training, a leading aircraft simulator manufacturer. We appreciate that Textron is a recognized leader in both civil and defense services. The simulator will be approved by EASA and DGCA India. Currently, the training required by Indian airlines greatly outnumbers the capacity available nationally, resulting in many Indian crews having to train abroad.  This second B737NG simulator will make great strides to reduce that gap, in line with FSTC's philosophy to train Indian pilots in India."