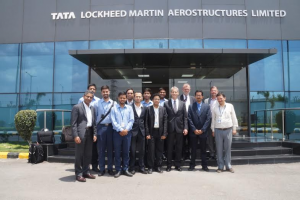 Hyderabad. 03 June 2016. A team of senior Lockheed Martin (LM) executives led by Dr. Keoki Jackson, Chief Technology Officer, and Phil Shaw, Chief Executive – LM India, visited the Tata-Lockheed Martin Aerostructures Limited (TLMAL), and Tata Sikorsky Aerospace Limited (TSAL) facilities in Hyderabad on May 31st, 2016.
Set up in 2012, TLMAL manufactures airframe components for the global supply chain of the C-130J Super Hercules. TLMAL was the winner in the best joint venture category at the 2013 Aerospace & Defense Awards.
Tata Advanced Systems Limited (TASL) holds a 74% stake in TLMAL joint venture, with Lockheed Martin holding the remaining 26% stake. Tata Sikorsky Aerospace Limited (TSAL) is a unique facility of its kind in private sector in India with capabilities of Engineering, Machining, Fabrications and Special Process all under one roof. This facility annually delivers over 100,000 parts to various end customers globally. TSAL is 74:26 Joint venture between Tata Advanced Systems Limited and Sikorsky Aircraft Corporation (A Lockheed Martin Company). Lockheed Martin is proud to partner with Indian industry to help further the "Make in India" initiative and this JV is a testament to Lockheed Martin's commitment to the Indian market.
Dr. Jackson met with the winning teams of the Lockheed Martin C-130J Roll-On/ Roll-Off University Design Challenge. The teams from IIT Chennai and University of Petroleum & Energy Studies have been awarded a grant to develop a prototype of their modular design and additional mentoring to develop a go-to-market strategy. At the end of the design challenge, Lockheed Martin will work with each team to explore options with government and industry to mature the prototype for global markets. The visit provided an opportunity for the university teams to interact with LM & TASL Aerospace engineers and receive valuable feedback and guidance on their designs.
In the spirit of continuing collaboration and innovation in India and commitment to furthering the Science, Technology, Engineering & Mathematics (STEM) education of India's next generation, Lockheed Martin started the C-130 Roll-on/Roll-off (RO/RO) University Design Challenge in November 2014 to help build Indian Industrial capacity to design, develop and produce transformational indigenous capabilities in addition to global customers. Students from five leading Indian Universities (IIT Delhi, IIT Chennai, Delhi Technological University (DTU), BITS Pilani – Goa Campus and University of Petroleum and Energy Studies) designed disaster relief modules with the focus of Indian Air Force (IAF) and National Disaster Response Force (NDRF) as their initial target.
The student teams were provided grants to work with local industry partners and were guided and mentored by current and former IAF and Defense Research Development Organization (DRDO) personnel in addition to NDRF. In addition to funding, Lockheed Martin also supported each team with engineering, technical, and business development expertise.
As a part of its larger commitment to enhance the growth and development of India's innovation and entrepreneurial pursuits, Lockheed Martin has been successfully running the India Innovation Growth Programme (IIGP) since 2007 in partnership with the Indian Department of Science and Technology, Indo-U.S. Science and Technology Forum, Federation of Indian Chambers of Commerce and Industry, Stanford Graduate School of Business, and the IC2 Institute at the University of Texas.
Lockheed Martin's urban unmanned aerial system programme with DTU has been equally successful and demonstrates a model for future collaborative research and development efforts in India.
Lockheed Martin will continue to explore opportunities for fostering talent as well as industrial partnership by supporting programmes for innovation, excellence and industrial partnerships to support India's industrial base. Lockheed Martin looks forward to building deeper and stronger collaboration with India.