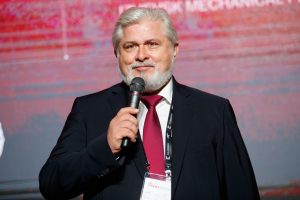 AK-203 is an advanced version of AK-47
Waiting for Indian MoD & IRPL to sign the contract
By Sangeeta Saxena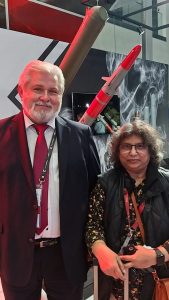 Moscow. 08 September 2021. August was a month of action for Russian defence manufacturer Kalashnikov . It announced the development of a marine version of the KUB kamikaze drone, unveiled an inflatable assault boat, the new S-8L guided missile , and the prototype of PPK-20 submachine gun . But the cynosure of all eyes was the most popular assault rifle series of the AKs. All this was at the recently concluded Army-2021 Forum at Moscow and under the leadership of Vladimir Lepin, the recently appointed CEO of the Kalashnikov Concern, an affiliate of the Russian defense giant Rostec . "Indian MoD and the IRPL are to sign a contract, after which we will kick-start the production. With regard to our part, we are fully ready," reiterated Vladimir Lepin in an exclusive interview with Aviation & Defence Universe (ADU).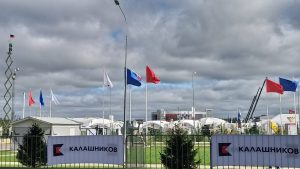 ADU. For the benefit of our readers can you please explain the relationship between Kalashnikov Group and Kalashnikov Concern?
VL. Kalashnikov Group is a diversified group that encompasses under one holding a portfolio of 7 companies across Russia. Today we run businesses on production of small-arms for military and commercial purposes, guided and high-precision missiles, speedboats, commercial vessels, UAVs and industrial tooling. Kalashnikov Concern is just one of our subsidiaries that produces the world-renowned AKs.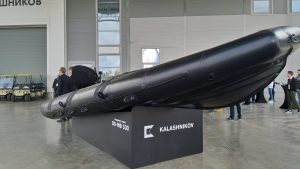 ADU. Army 2021 saw quite a few new products launched by Kalashnikov. Does this mean the company is expanding beyond the rifle segment? Is there an existing market for these products?
VL. It is not expanding. It has expanded and our brand is well-established not only in small-arms. We have 2 shipyards, a state-of-art UAV production and training facility. We also produce guided missiles and tooling a software for industry.
ADU. When will the RPL-20 machine gun and the GPR-20 grenade launcher finish the preliminary test and go into production?
VL. Russian procedure for trials and testing is quite extensive. It includes technical trials at the specialized military testing ground and then troop trials, when the officers across Russia get the weapons and then we collect their feedback and based on it, implement necessary changes into the design. That process normally takes several years, until the customer (Ministry of Defense) is completely satisfied with the performance of the new weapon. So, after we present the new products it takes us quite some time to accomplish the stage of testing.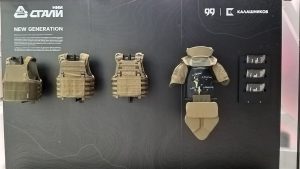 ADU. Has the demand for the AK-12 for Special Forces picked up post the Army 2021?
VL. AK-12 is our product designed for the Russian Army to replace AK-74. At the stage of trials we have been collecting feedback from users that in the course of the last couple of years initiated works to retrofit the riffle. We are sure that the new modified AK-12 meets all the requirements if the Russian Army. It can be effectively used 24/7 and has a perfect ergonomics that will fit any soldier. At ARMY Expo the Russian MoD signed a contract to supply hundreds of thousands of AK-12 to the Russian Army.
ADU. Inflatable assault boat DS-RIB attracted a lot of attention. Is the market for this both land and naval forces ? If so has the marketing begun on an international leveland what is the response?
VL. We see good opportunities for our assault-boats, as the demand from both special forces and land and naval forces is high. As soon as we start the actual production we will start marketing it abroad, specifically in the countries that have big littoral areas and terrains with rivers and lakes – the conditions in which our boats can be most effective.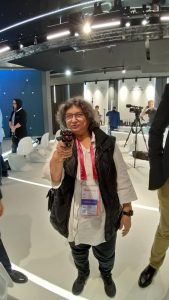 ADU. Will the new Lebedev PLC-T traumatic pistol shown at the Army-2021 replace Makarov totally?
VL. No, the traumatic pistol has nothing to do with replacing Makarov. Traumatic PLK is the version of combat PLK for commercial market. However, the combat PLK is designed to replace Makarov pistol in use with our police and law-enforcement agencies.
ADU. With how many countries do you have Joint Ventures to create manufacturing lines?
VL. We do not have many, but we are looking forward to partnerships. We understand it is what the global defense market requires. Notably, Kalashnikov is one of the few companies both in Russia and globally that is forming JVs for ToT and joint production.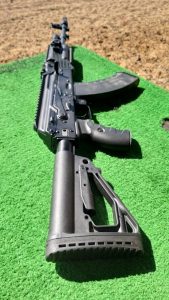 ADU. What is the status of the AK-203 JV in India and when does it start becoming operative?
VL. The Indian MoD and the IRPL are to sign a contract, after which we will kick-start the production. With regard to our part, we are fully ready. It should take us a few months to launch the production once the contract with the Indian MoD is signed.
ADU. Kalashnikov has also been designing and manufacturing UAVs . Is it for both military and civilian markets? Have you also started exporting them?
VL. Yes, we have a modern facility for UAVs in Izhevsk. We produce commercial and military UAVs. As for commercial, monitoring and reconnaissance UAVs we market them globally and already have a good export portfolio. As for the military UAVs, we are looking forward to explore the untapped potential of the global market.
ADU. Is Kalashnikov USA operative or have sanctions hampered its progress?
VL. No, we do not operate in the USA. As for the impact of sanctions, we won't deny it was a challenge for when they were imposed back in 2014. But since then our revenue has increased more than sixfold. Well, these numbers are telling. We have new customers and we are quite positive about the Group's future.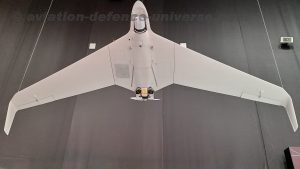 ADU. What approximate percentage would be Kalashnikov Group's business from exports vs domestic?
VL. The proportion varies from year to year and is different for our different businesses. The average would be 80-20% domestic vs export. But for some business exports make 70% of the total revenue.
ADU. AKs with Baikal and Izhmash form a formidable popular trio in the US market? Has the business been developing by leaps and bounds keeping in mind the slack gun regulations and popular gun culture in US?
VL. Until 2014, the business was developing very well, with Izhmash AK-based Saiga rifles being the top selling product and Baikal shotguns following not far behind. Saiga 12 gauge shotguns were quite popular with 3-gun competition shooters. The detachable box magazine of Saiga shotguns gave them a distinct advantage over more traditional designs with a tubular magazine. Baikal shotguns were popular with hunters and gained a lot of popularity in Cowboy Action Shooting competitions.