Wellington,India. 15 April,2016. The President of India, Pranab Mukherjee attended the Convocation Ceremony of the 71st Staff Course of Defence Services Staff College (DSSC) at Wellington, Tamil Nadu.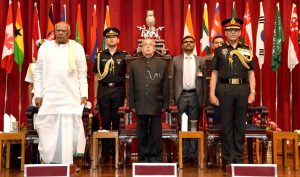 Addressing the graduating officers, the President called upon them to effectively leverage the combat power of our forces, when the country requires them, as custodians of peace and security, to preserve the sovereignty, conforming to our national interests. As Supreme Commander of Armed Forces, he asked them to perform their duties with loyalty, distinction, steadfastness and patriotic fervour.
The President congratulated graduating officers from friendly foreign countries and expressed hope that the deep bonds of friendship and camaraderie they have forged will transform into everlasting ties of brotherhood between our nations.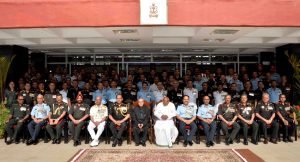 The President said DSSC is a premier establishment which promotes the integrated functioning of the three services in a multi spectrum conflict environment. He said the training curriculum at this College seeks to instill jointness amongst our armed forces. The history of warfare bears testimony to the fact that ultimate victory in war will be achieved through jointness among the three Services.
"I am also delighted to learn that 35 officers from 25 friendly foreign countries shall be graduating from the portals of this College today. As befitting ambassadors of your respective nations during the last one year, you have received a professional insight, not only of our armed forces and our redoubtable nation, but also on subjects of international relations, military strategy, operational art, doctrines, and so on. I am sanguine that as thoroughbred officers, you shall rise to the hierarchical levels of leadership in your armed forces, similar to DSSC alumni icons in the past. I hope that the deep bonds of friendship and camaraderie that you have forged amongst you will transcribe into everlasting ties of brotherhood between our nations in an eternal dimension of time," he said.