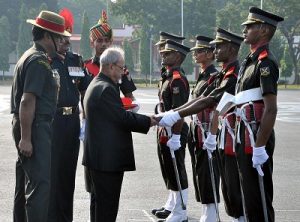 New Delhi. 10 September 2016. 269 Officer Cadets including 218 Gentleman Cadets, 32 Lady Cadets, 19 Gentleman Cadets and one Lady Cadet from friendly Foreign Countries, were commissioned as Officers following the completion of vigorous training at the the Passing Out Parade of the Officers Training Academy Chennai .
Pranab Mukherjee President of India reviewed the spectacular parade which was commanded by Academy Under Officer Varun Singh Chauhan . It is only the third time in the 53 year old history of OTA, that the President is reviewing the Parade.
The Officer Cadets marched out with precision from Parameshwaran Drill Square to the tune of 'Auld Lang Syne', taking the 'Final Step,' thus symbolising the end of their training, which infact is the 'First Step' towards a demanding and stimulating career as the custodians of the nation's integrity and honour. The proud parents of the Officer Cadets, dignitaries and members of the diplomatic fraternity witnessed the mesmerising parade.
Addressing the Parade, the Reviewing Officer congratulated Commandant Lieutenant General Bobby Mathews and his faculty for having toiled hard to turn out a smart and capable set of young Military leaders. The honble president urged the young officers to dedicate themselves in selfless service to the nation.
During the Parade, the Reviewing Officer presented various awards. The most coveted "Sword of Honour" for Best All Round Gentlemen/Lady Cadet of the Passing Out Course was presented to AUO Varun Singh Chauhan. The Gold Medal for standing first in Order of Merit was awarded to Battalion Under Officer (BUO) Alla Shridhar. The Silver Medal for standing second in Overall Order of Merit was awarded to Academy Cadet Adjutant Divya Tyagi and the Bronze Medal for standing third in Overall Order of Merit was awarded to BUO Rakesh TR. The banner for Champion Company was awarded to Mektila Comapany.
The Officer Cadets were piped as officers, by their parents in front of the Parameshwaran Drill Square. The event was followed by an oath taking ceremony and National Anthem. Apart from the President's Commission to lead the world's second largest Army, each of the newly commissioned Lieutenants would also be awarded a Post Graduate Diploma in Defence Management and Strategic Studies by the Madras University.