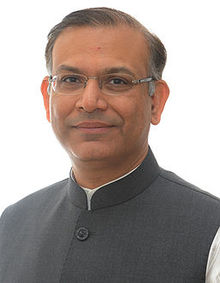 New Delhi. 05 July 2016. Jayant Sinha will be the new  Minister of State for Civil Aviation. He ill be replacing Dr. Mahesh Prasad.
Sinha holds an M.B.A. with Distinction from the Harvard Business School, an M.S. in Energy Management & Policy from the University of Pennsylvania, and a Bachelor of Technology degree with Distinction from the Indian Institute of Technology Delhi.
During the 2014 national election campaign, Sinha worked with Prime Minister Narendra Modi to help frame national economic policy, including organizing and hosting an international business leaders' forum with Modi in February 2014.
An alumnus of  IIT Delhi , he also has a MBA  from Harvard Business School.  Sinha joined McKinsey & Company in Boston, and was elected Partner in 1999. At McKinsey, Sinha co‐led the Global Software & IT Services Practice.  Sinha returned to India in 2002 with McKinsey, before leaving to join Courage Capital, a global special situations hedge fund, to lead their India investing efforts.
A Member of Parliament and formerly the  Minister of State Finance and an investment fund manager and management consultant, Sinha has over 25 years of experience as an investor and strategy consultant.[2][3] He has served as a member of two important parliamentary committees – the Public Accounts Committee and the Standing Committee on Finance.
Sinha is married to Punita Kumar-Sinha, an investment manager and former Senior Managing Director at The Blackstone Group. He is the son of Nilima Sinha and Yashwant Sinha, a senior Indian politician and former External Affairs Minister and Finance Minister of India.