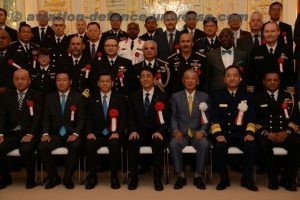 Tokyo. 12 September 2017. Japan Coast Guard (JCG) and the Nippon Foundation co-hosted the Coast Guard Global Summit (CGGS) 2017. Prime Minister of Japan Mr. Shinzo Abe inaugurated the summit at Tokyo.
Director General Indian Guard Rajendra Singh attended the inaugural event. The two days summit is aimed to enhance the collaboration and cooperation among Coast Guards worldwide in coping with new challenges, maritime disasters, maritime accidents, maritime pollutions and maritime crimes occurring across borders.
It is needless to say that Coast Guards and the agencies with Coast Guard functions connected globally by sea have traditionally worked together in cooperation to ensure safety of navigation with utilizing bi-lateral or regional frameworks, which is to cope with threats to the safety of life at sea and marine environment across borders.
The summit will discuss on pioneering activities, discussing and disseminating new co-operative measures among the heads of coast guards as the first responders.