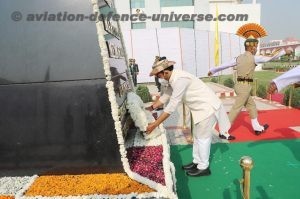 New Delhi/ Greater Noida. 24 October 2020. Indo-Tibetan Border Police (ITBP) celebrated its 59th Raising Day. G Kishan Reddy, Minister of State (Home) took the salute as Chief Guest and conveyed greetings to all Force personnel.
MoS (Home) acknowledged the services rendered by the ITBP and said that the Force is working with zeal and high order of professionalism even in the uncongenial & extreme conditions on the mountainous borders of the nation. He emphasized specifically on the selfless service rendered by the ITBP in various efforts to fight the spread of Covid19 in the country from establishing the first ever quarantine centre in Chhawla to maintaining the world's largest Covid Care Centre and Hospital, Chhatarpur, New Delhi.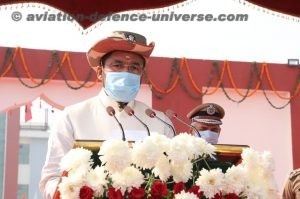 S S Deswal, DG ITBP welcomed the Chief Guest and other dignitaries and elaborated upon various achievements of the Force over the years.
President's Police Medals for Distinguished Service and Police Medals for Meritorious Service were conferred to many ITBP personnel by the Chief Guest.
Various best Battalions of the Force were awarded on the occasion. 10th Battalion was awarded with the Best Border Battalion trophy, 26th Battalion was awarded with the Best Non Border Battalion trophy, 53rd Battalion was awarded with the Best Anti Naxal Operations (ANO) Battalion trophy, and 36th Battalion was awarded with the Best Green Battalion trophy while 41st Battalion was awarded with the Swachhta Trophy. Constable P H Sonia Devi was awarded with the Best Sports person of the Year 2020 trophy. The best training centre trophy was awarded to RTC Karera and Shivagangai jointly.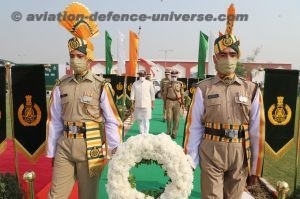 An ITBP Annual Special Souvenir containing highlights of the achievements of the Force during the year and a book 'Devbhoomi Uttarakhand' incorporating brief information regarding spiritual and religious places, tourist places, institutions, temples etc of Uttarakhand were also released by the Hon'ble Chief Guest on this occasion as e-publications.
Amrit Mohan Prasad, ADG ITBP in the vote of thanks expressed gratitude towards the Chief Guest and said the Force will continue to serve the nation with dedication and commitment.
Raised 24 October, 1962 during India-China war, the ITBP primarily guards 3,488 KMs long borders in the Himalayas at the BOPs located at altitudes ranging from 3,000 to 18,800 ft. Apart from border guarding; the Force is also deployed for Anti Naxal operations and other internal security duties.
The ceremony was organized following the COVID19 protocols and there were no customary march pasts or demonstrations etc in the parade this year.