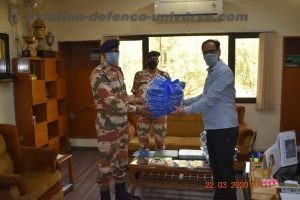 New Delhi. 17 April 2020. Besides fabricating the quality PPEs and Masks for own requirements, the Indo-Tibetan Border Police (ITBP) is also donating and distributing the PPEs and Masks to many needy organizations on availability. Some of the beneficiaries are Haryana Urban Local Body (UBL) (200 PPEs, 200 Masks), Rohtak Dental College (50), Government Sarvodaya Vidyalaya, Rohini (20 PPEs) (50 Masks), Kondli Municipal Corporation (20 PPEs) (50 Masks) etc. All these supplies are free of cost.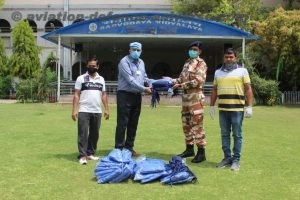 Many organizations are also requesting the ITBP now to supply the PPEs and Masks from Gujrat, West Bengal and from many other states.
As these PPEs and Masks are quality products fabricated at Supply and Support Battalion of ITBP in Saboli, Haryana, they are also cheap in terms of price. PPEs cost around 100 rupees while the masks cost less than 5 rupees. These products were showcased and tried by NITRA and AIIMS.
Till now, ITBP has been fabricating these items for use of its own health and quarantine facility management centres but due to demands, the Force is considering to enhance the daily capacity of making the PPEs and Masks to make it double. At present 200 PPEs and 500 Masks are fabricated at the Centre.
The Himveer Wives Welfare Association (HWWA) is also contributing to the cause. Besides helping in PPEs fabrication, they have already made 1000 masks at the centre. HWWA members are making masks from their homes and delivering to the Centre.