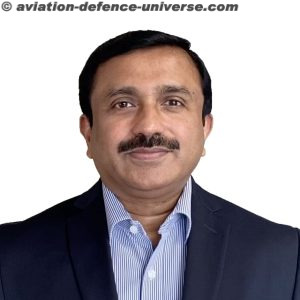 By Praveen Cherian
New Delhi. 10 November 2022. Whether on the frontlines of a battlefield or routine surveillance and reconnaissance, our armed forces depend on lifesaving, mission-critical communication for success. Digital supremacy has emerged as an urgent requirement in Defence, as next-gen, autonomous, and high-speed technologies are backing armed forces across the world with modernized military operations and rich new layers of Defence intelligence and data insights.
Imagine a digitally enabled Defence force! Autonomous technology, sensors, and satellites will enable military ISR (Intelligence, Surveillance, and Reconnaissance), one of the most crucial success elements in warfare and defence, to give granular intelligence inputs on the battlefield and in operations. The increased power of next-generation ISR technologies, such as thermal, infrared, sound, and electromagnetic sensors, aerial photography, high altitude pseudo satellites, unmanned aerial vehicles (UAVs), cloud, and AI-based analytics, will give us a competitive edge.
Modernization of traditional radio systems and replacing them with digital communications systems will drive innovations in airborne, naval, man-portable, vehicular and stationary communications. Command and control centre operations will enable data led decision making and action mobilisation.
Smart weapons like drones, self-guided ammunition, and autonomous tanks will often be used and revolutionise the way that war will be fought. All of these possibilities will harmoniously fit into a defence environment that is both strong and formidable.
Unshackling Defence networks from legacy challenges
We live in an era where technology is constantly changing and evolving. Since the onus of ensuring reliable and instant access of data falls on network infrastructure, there is a pressing need to modernise networks and enable the performance of almost all technologies that sit on top. One careful look at today's networks and it'll be difficult to not notice that it follows a 'build-on-top-of-legacy' approach which might not unlock the full potential of these networks. Our armed forces are already thriving in an environment that is vulnerable to continuous threats, be it on a warfront or on security. So, the next logical step is to work towards making our forces 'digitally supreme'.
Modern networks need a connected ecosystem which spans data centres, control centres and so on, and they also need to be highly secure and private. On top of this, 'jointness' is a key feature that Defence organizations now require, which allows network integration across their ecosystem.
STL is working to connect and secure the nation's borders and also modernise networks of the Defence forces to place Indian Defence at par with the most digitally advanced forces in the world. This is a pursuit we are passionately connected to. We have built the Indian Army's fibre network in the toughest terrains of Jammu and Kashmir. We are also working with the Indian Navy to establish an ultra-modern, highly secure and seamlessly integrated naval network covering mainland to islands including Andaman Nicobar & Lakshadweep, thus providing seamless coverage, unprecedented information security, enhanced bandwidth and advanced data center with a private cloud ecosystem centrally monitored through Network & Security Operations centers, we are connecting every node for the Indian navy.
 Key Steps to Deliver a Digitally Supreme Indian Defence Force
When calibrating modernization plans, defence organizations should look at two parameters- their investment roadmap and strategic criticality to defence outcomes such as deterrence and attack capabilities, mission effectiveness etc. The current climate of increased digital warfare and cyber-attacks makes a strong case for securing communication networks for a country's entire defence ecosystem.
Prioritizing network modernization with policy-backing: A dedicated ICT budget will help in moving the needle on network modernization. Though the Indian Defence force has the third highest military budget in the world, spending for network modernization and digitisation has been staggered. This needs to change
Increasing private sector partnerships: The government is opening up critical sectors like agriculture, railways and coal mining for greater private participation as it recognizes the impetus that private partnerships give to large objectives, both economically and for innovation. From executional efficiencies and best business practices to bringing in niche capabilities, private players can add immense value and help meet ICT targets
Using 5G networks for faster communication and data transfer: 5G has the potential to transform supply chain, logistics, and battlefield applications. A wide range of endpoints, including mobile phones, sensors, IoT and MIoT control devices, and vehicle connectivity, can be connected via 5G
End-to-end network modernised solution that focuses on building a technology-enabled defence ecosystem: Having infrastructure partners that have the capability of modernizing any network starting from the physical layer to the application layer is key. Armed forces need digitalising and building network-centric defence ecosystems to bolster combat readiness and modernise battlefield operations.
STL's solution involves building highly secure and advanced networks, designing, and building data centres and other elements of a connected ecosystem. We are also building specific use cases for the forces like intrusion detection through fibre optic sensing. This solution has the potential to technologically secure the borders and bases and save hundreds of lives of our brave soldiers.
The progress on digitisation in the Indian armed forces will bring in change in the basic precept of military operations. Our defence sector's enhanced digital capabilities will have a far-reaching impact on each aspect of defence – strategy, operations and tactics.
(The author is CEO Network Services at STL . The views in the article are solely the author's. He can be contacted at [email protected]).