NAVY'S  DIRECTORATE OF NAVAL DESIGN (DND)  AND WEAPONS ELECTRONICS SYSTEMS ENGINEERING ESTABLISHMENT (WESEE)
By Cmde(Retd) Ranjit B Rai. September. When Defence Minister Manohar Parrikar recently commissioned INS Kochi, the second ship of the indigenously designed and home built Project 15A of the Kolkata-class guided missile destroyers built by Mazagon Docks Ltd (MDL), Modi's government reaffirmed its commitment to develop a true  Blue Water Navy, which can dominate the Indian Ocean Region (IOR), and  considered friendly by India's  neighbouring nations.
India has the onerous role of a Net Security Provider in the IOR, and a Blue Water Navy entails the capability of self sustained expeditionary task force operations away from home shores  for prolonged periods.  India will need at least two task forces with aircraft carriers with aviation assets,  Fleet ships, nuclear submarines and support tankers and for this 7,400 ton INS Kochi is a welcome and powerful addition.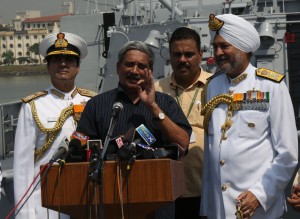 The INS Kochi  has an indigenous content of  80 % of machinery, equipment, electronics and control systems and the Chief of Naval Staff Admiral RK  Dhowan has proudly stated that  India has achieved the capability to design and build all class of warships and submarines in India and over forty five ships including a 37,500 ton  aircraft carrier Vishal at Cochin Shipyard Ltd (CSL) and two more nuclear ICBM submarines (Aridhaman) in a PPP with Larsen & Toubro Ltd (MDL) at the DRDO's Ship Building Centre Vishkapatnam are on order in Indian shipyards. This,  for a developing nation and a small 75,000 strong uniformed Navy is no mean achievement.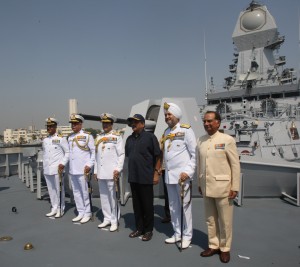 It is in this context Aviation & Defence Universe in its maiden post unveils the role played by the Directorate Of Naval Design (DND)  and the Weapons Electronics Systems Engineering Establishment (WESEE) in achieving the status of a builder's Navy.
The DND and WESEE   have contributed the   most critical  aspects of warship building and saved much foreign exchange and ensured the Intellectual Property Rights (IPR) to execute  modifications and improvements are strictly held in country, and will prove most helpful in export of warships and naval systems in the future. DND and WESEE have  shared much with DRDO and industry, especially the Bharat Electronics Ltd (BEL)  and ECIL to modify ships and produce equipment commercially for the Navy.  Indigenous sonars, the  Humsa and Nagin and Integrated Communication systems and missile fire  and  control figure in this list, which has helped sister services too.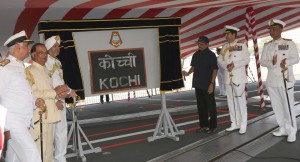 DND has provided  the detailed design of the naval platforms  to float, to move, to fight and survive to  fight another day. The WESEE network with civilian soft ware firms,  in co-ordination,  have provided the electronics, modems for data transfer, cyber and communication security  and the command and control systems to ensure error free 'detection of enemy to shooter' of systems in minimum time  for powerful  weapons, which are now 'one  shot kill weapons' and INS Kochi has them. The WESEE has ensured connectivity for the Commands and Naval Headquarters via HF/VHF links and the satellite Rukmini terminals fitted on all major warships for GSAT-7 built by Indian Space Research Organisation (ISRO) with UHF, Sierra, Ku and Charlie bands for  encrypted net-worked data transfers and voice talks.
The  Corps of Naval Constructors ( also known as Naval Architects)  was established as  a   specialist arm of the Engineering branch of the Indian Navy  on 17th  November,  1956 with three   foreign trained civilian constructors led by late Padma  S Paramanandan,  Sam Dotiwala and  VS Dhumal in the  nascent Corps.  The first uniformed Naval Constructor in the Indian Navy was Late Cmde Ved Prakash Garg (1929–1983).   While the first Constructor officers were trained at Royal Naval College at Greenwich IN London, few  naval architects were inducted from IIT Kharagpur, the only institution which qualified  Naval architects.
Canada trained  naval architect  Sethna who had joined Mazagon Docks Ltd (MDL)  and assisted in building and commissioning the first large Indian warship INS Nilgiri in 1973 which was a Leander design bought out from Yarrow Ship builders Ltd Glasgow Scotland and modified by DND  for Indian conditions. Nilgiri  was fitted with  Navy's first twin batteries of anti aircraft missiles,  the Seacat,  which performed well and a ship borne helicopter the ASW capable Alouttee.  These were the  pioneers of what became DND.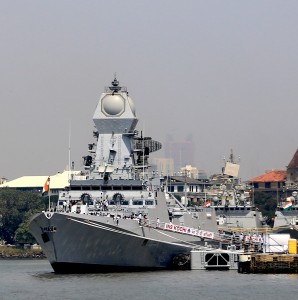 It was the early vision of ambitious and risk taking  Naval planners to strive for a 'Builders Navy', that  led to setting up of a small 'Central Design Office' in 1964 which later expanded as  the Directorate of Naval Design in 1970 to design warships in a Surface Ship Group (SSG) which today boasts of a large 'state of the art'   design bureau  in New Delhi's Greater Kailash buzzing with activity. Officers of the Corps can now boast  they actively contributed much in  diverse fields of  ship and submarine design, their construction, repair and maintenance and also R&D in Naval research institutions. These versatile officers have even played a role in the naval variants of the country's prestigious Guided Missile Programmes at sea like the Dhanush, BrahMos, Sagarika now named K-15/B-05 which plug and play weapon system will go on the SSBN  Arihant now undergoing deep sea trails off Vishakhapatnam to provide India's second strike from the sea.
Another classified design  group was set up to modify and  design submarines in the RK Puram defence  complex, and the  Corps celebrated  50 years of glorious contributions to the nation  with  its Golden Jubilee on 17 Nov 2006 as part of the Navy Week celebrations, when the Navy publically declared some of the classified activities of DND to industry and later invited foreign naval architects to a seminar in 2014 to chart a course for the future.
In a short span of half a century, Indian Navy and the  nation with no established ship design capability is today contributing to Prime Minister Narendra Modi's Make in  India thrust, as torch bearers.  The past  generations of progressive naval leadership brought  fruit in their vision to bring about self-reliance in designing, building and maintaining  naval combatants employing "home-grown" talent.  Today a strength of about 300 men and women officers man DND to cope with the increasing demand for newer indigenous warships, and about 150 shipwright sailors are trained in their specialisation at the Navy's Shipwright school at the Naval Dockyard  Visakhapatnam, and support ships serving at sea.
Most of what research work and execution the Electronics Systems Engineering Establishment (WESEE), like the DARPA of USA and such organisations do,  is kept classified. The  Navy for the first time at the July 2015  seminar  unveiled the hitherto classified details how  Weapons the  Navy's  own in house research set up,  and now also staffed with   DRDO  men and women scientists alongside  naval officers and how it has supported the Navy in upgrading soft ware and electronics equipment across the fleet. WESEE has also provided operational solutions, designed naval net works, catered for cyber security with  interactive modems for full range  of communications including space,  and inter-phased  Russian  and Western weapon systems on board front line ships. WESEE has  designed   a world class Combat Management System (CMS) on board INS Kolkata and Kochi and all ships in the last decade. . WESEE's  products which  includes Link 1 to Link  III for  HF/VHF data digital communications,  and these   are manufactured and set to work by government owned Bharat Electronics Ltd (BEL), which also supplies indigenous  panoramic sonars. Atlas Electronix Ltd Germany is supplying six towed sonars (ATAS)  and the rest will be built in India in the Make in India programme, to which the Navy is committed.
Currently there are twenty seven major shipyards  (8 public and 9 private sector) which have the capability to build vessels upto 1,10,000 Dead Weight Tonnage (DWT) , small in comparison with Japan, Korea and China but DND and WESEE are currently engaged in designing a 65,000 ton futuristic aircraft carrier which could even have nuclear propuslion in collaboratrion with USA and eight submesicble Submarine Nuclear (SSNs)  sanctioned by the Defence Acquistion Council (DAC)  and the task is stupendous but the Indian Navy has buckled up to meet the challenge and needs the support of the nation as torch bearers in Make in India.
The author Cmde Ranjit B Rai is a defence expert and  author of a WARRING NUCLEAR NATIONS-INDIA AND PAKISTAN  (ISBN 978-93-5158-638-0)