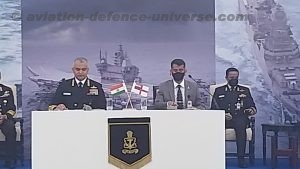 By Sangeeta Saxena
New Delhi. 03 December 2021. The just in command Indian Navy Chief Admiral R. Hari Kumar, in his maiden annual press conference, on the eve of Indian Navy Day stated, " We are aware of the developments in the Chinese Navy. They have built over 138 ships in the last ten years which roughly translates to 13 to 14 combat platforms every year. We keep an eye on all development in our area. PLA Navy has been present in IOR since 2008. On an average sometimes they have 7 and sometimes 3 ships in the IOR region. Their submarines do operate in the IOR region . We keep track of these deployments. There is constant surveillance by our aircraft and our mission based deployed ships. Indian Navy is a well balanced force and we are confident of defending India's maritime interests for sure."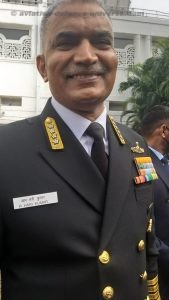 He was responding to the media's query an the continuous expansion and modernisation drive of PLA Navy. "The Chinese activities and deployments are kept under close watch. We have our plans," he added. The Navy had set a target to become a 170-ship force by 2027. At present, the Navy has around 130 ships. To this the Chief said that the requirement is being assessed under a 10-year Integrated Capability Development Plan (ICDP) which is underway and decisions will be taken."It may be 230 (ships), it may be 300, the process is on. It is a scientific process. I cannot give you a number at this point. We will arrive at a decision following the completion of the process," he explained.
The 25th Naval Chief also informed , "Maritime Theatre Command is likely to be finalised by mid 2022. Jointness and integration are not some thing which can happen in a very short time. It is a complicated process. First we ordered an initial study and thereafter a detailed study was done which was tried down in war games and table top exercises. Now we are in the third stage of war gaming process. A third study has also been ordered by DMA. We are looking at the maritime theatre command where largely the command structures will remain in place with a lean theatre command organisation on top of it. The charter of theatre commanders will be largely operational."
Responding to a query on the activity of the Department of Military Affairs he reiterated , "DMA has made a substantial difference to the way of functioning in the armed forces. It is the single most important higher defence organisational reform happened in our military since independence. There is clear dissemination of the national policy objectives to the military. Faster decision, faster approvals, much reduced processing time, handling of subjects by subject matter experts and fewer layers of bureaucracy."
Not fretting over the limited or less naval budget in the pie Kumar said, "capability development is linked with the budget. As of now we have been able to focus on the money that has been allotted to us. We have looked at our priorities and we have been able to move in the direction we want with regards to modernisation so far."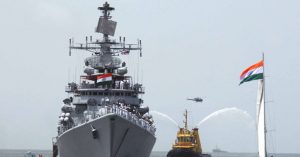 Agreeing that the Indo-Pacific has got great importance for India, as more than 200Bn dollars of trade and a lot of diaspora staying in these littorals, we keep a vigilant eye on the region and its maritime security, he said.
The Navy chief said, "Of the 39 warships and submarines being built for Indian Navy, 37 are being built in India under 'Make in India' showing our quest for Atmanirbhar Bharat. The road map for unmanned systems has recently been approved for ten years. Our plans are to develop them in indigenously. "
Informing on the Navy being an equal opportunity employer, he informed, "We have taken measures to provide additional opportunities to women officers. The first women Provost officer joined in March this year. Navy is ready to induct women in different capacities." Reiterating on the theme for Navy Week 2021 which is 'Indian Navy – Combat Ready, Credible and Cohesive' An aircraft carrier gives fight power, air defence capability and it protects the assets of the navy at sea. Submarines give stealth and under water fight capability . Both are needed in the right mix. It is not either nor or , it is about capability mix," ended the Navy Chief.