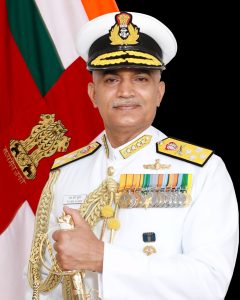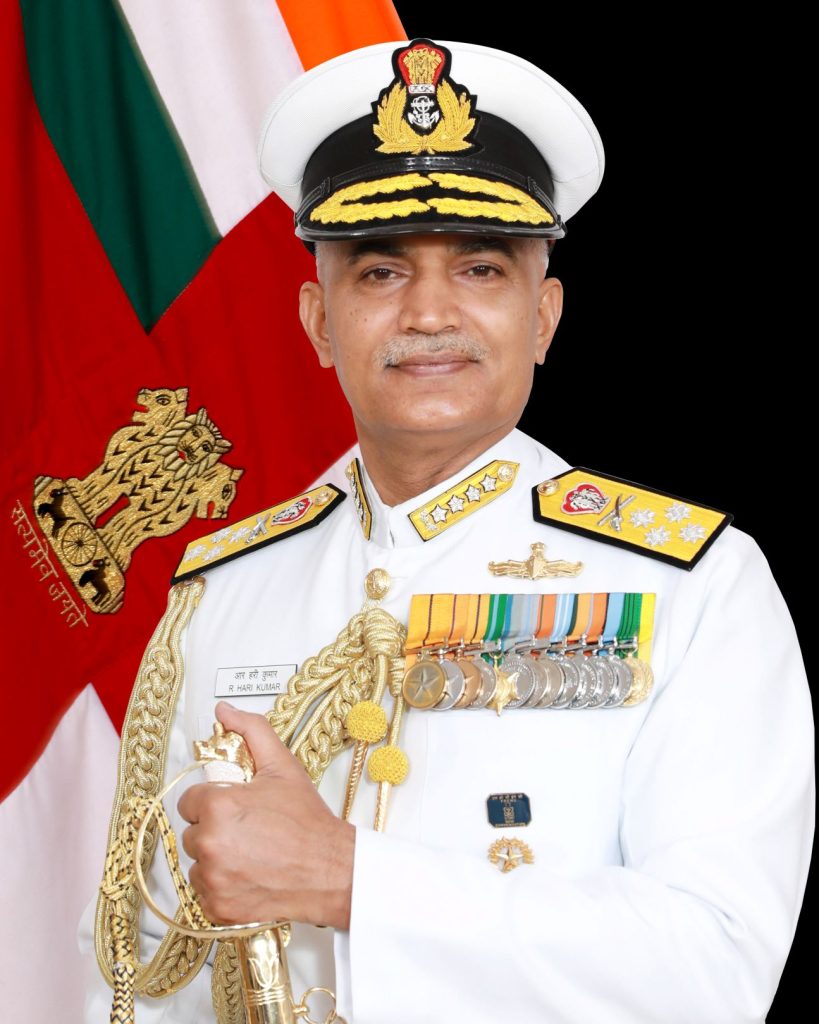 New Delhi. 27 December 2021. "Whilst the submarine force level is adequate to respond to current threats, we need to expeditiously progress planned acquisition progress to be future ready. The Indian Navy's submarine arm is a potent force, fully capable of accomplishing a wide range of operational tasks," stated Admiral Radhakrishnan Hari Kumar PVSM, AVSM, VSM, ADC, Chief of Naval Staff, India in an exclusive interview to Aviation & Defence Universe (ADU).
ADU. Given the changed regional geopolitical situation, constrained budgets and increasing operational tempo, what are the priority areas Indian Navy will focus on from a combat and surveillance capability development perspective?
CNS. Modernisation of Indian Navy is being progressed apace. Over the past year we have witnessed the commissioning of three major platforms, destroyer Visakhapatnam, submarines Karanj and Vela, launch of frigates Himgiri and Tushil, and submarine Vagir. Further, 39 Ships and submarines are currently on order. In addition, 'Acceptance of Necessity' has also been accorded for 49 ships and submarines. In the aerospace domain Indian Navy is undertaking refurbishment and upgrade of the existing platforms, and also procuring additional aircraft including unmanned solutions to augment surveillance capabilities. Further, Indian Navy is also focusing on induction of long range sensors and weapons with precision strike capability for its platforms. Going forward, the Indian Navy is seeking to harness niche technology to improve effective as well as efficient use of resources. Unmanned solutions, autonomous vehicles and new age weapons and sensors would be part of our manned-unmanned teaming in future. We have also embarked on a focused drive to integrate Artificial Intelligence and Big Data Analytics into our scheme of things.
ADU. What is the strategy to integrate the naval technologies and assets into the Combat Management Systems (CMS) of the Navy or is it a challenge?
CNS.The first indigenous CMS was developed more than two decades ago for the P16Aclass of ships. Since then, indigenous CMS have been fitted on newly commission ships, as well as those that have undergone Mid-Life Upgrades. In the next few years, all ships of the Indian Navy, including minor war vessels, would progressively be fitted with modern CMS. Over time, the software and hardware of CMS has undergone significant advancement. The present generation of CMS utilises the latest technological advancements with respect to computing and networking to ably support the ship's crew in tactical decision-making while under complex multi-threat scenarios. As with any project of such scale, integrating a large variety of weapons or sensors manufactured by varied OEMs would always be a challenge, which is being addressed adequately. Additionally, dedicated efforts to achieve a Navy wide tactical weapon and sensor grid, utilising the CMS as the cornerstone is also being pursued. Our vision is very clear, that the future battlefield will need a net-enabled and networked force with concepts like sensor-shooter grids and common operating picture as a necessity rather than a luxury. All our endeavours are in this direction.
ADU. Navy's indigenisation plan is a trailblazer for the other forces but both the move & fight components are very heavily dependent on imports. How do you plan to change that so that indigenisation becomes 90% plus from the current 60 to 70%?
CNS. The indigenisation of various components is being addressed with a multi-pronged approach. The Technology Perspective and Capability Roadmap (TPCR) revised in 2018 provides a firm roadmap in this endeavour. We already have two major schemes called iDEX (by DDP) and TDF (by DRDO) to provide grants-in-aid to our industry for meeting defence requirements indigenously. The overall aim is to build and maintain in-house. Under the Make-III scheme, we are encouraging enhanced participation of industry to go in for ToTs and JVs with leading firms around the globe. Further, enhancement of FDI to 74% through automatic route will accrue significant benefits to defence manufacturing. We also are pursuing Inter Governmental Agreements to encourage multinationals to set up manufacturing bases in India or engage local companies. In addition, we have already announced two 'Positive Indigenisation Lists' to apprise the Indian industry about the anticipated requirements of the Armed Forces along with firm timelines.
ADU. What are the changes coming about in the Indian Navy after the establishment of CDS?
CNS. The creation of Department of Military Affairs and the Chief of Defence Staff (CDS) has enhanced synergy amongst the Armed Forces. Further, DMA aims to promote jointness in procurement, training and staffing for the Services through joint planning and integration of the Services' requirements. The reform also targets restructuring of Military Commands for optimal utilisation of resources by bringing about jointness. The Navy supports jointness and we firmly believe that battlefields are meant to be addressed through joint planning and joint application of force. The forces must train together to fight together. We are also in support of the ongoing efforts for theaterisation and have been actively participating in the process.
ADU. As the Chief of a Navy are you satisfied with the submarine strength?
CNS. As on date, the Indian Navy has 17 submarines in commission. Insofar as the expansion plans of the submarine arm are concerned, the first three P-75 submarines were commissioned between Dec 17 and Mar 21. The fourth submarine Vela was commissioned last month and the fifth submarine is at an advanced stages of trials. The RFP for a new class of submarines under Project 75 (I) has been issued. Construction of all submarines of P-75 (I) will be carried out in India under the Strategic Partnership (SP) model. Additionally, the Government has also approved a proposal for extending the service life of four Sindhughosh class and two Shishumar class submarines. As part of this, two submarines have already arrived in India post completion of Medium Refit cum Life Certification (MRLC) at Russia. MRLC of the third and fourth submarine are ongoing and are likely to be completed by mid-2022.
Whilst the submarine force level is adequate to respond to current threats, we need to expeditiously progress planned acquisition progress to be future ready. The required force levels of our submarines and strategy of their operation in the future are in accordance with the overall naval plans of countering threats to national interests close to the coast as well in distant waters. Most of our submarines have been modernised and upgraded in terms of their weapons-sensors suite as well as their crew-support system. The Indian Navy's submarine arm is a potent force, fully capable of accomplishing a wide range of operational tasks.
ADU. As the Chief of a Navy are you satisfied with anti-submarine warfare capabilities?
CNS. The Indian Navy is undergoing a fast-paced transformation with respect to its Anti-Submarine Warfare capability. A number of initiatives have been put into place both at strategic and tactical levels. At the strategic level, these involve large area monitoring systems that feed into the underwater domain awareness initiatives with a whole-of-government approach. At the tactical level, a number of modern sensors and weapons systems like towed arrays and torpedo defence systems on all capital warships, long range area denial anti-submarine weapons and airborne ASW platforms are being inducted. Progress is also being made in stealth techniques onboard indigenous platforms, which limit counter-detection by adversarial submarines. Most importantly, a strong impetus is being put on indigenous capability in the field of ASW, which is in line with the Government's policy of AatmaNirbhar in defence.
ADU. Recently President's Colours were presented to the Indian Naval Aviation, which is a recognition for the service rendered but are you satisfied with it's strength and stealth and as the Chief is there a wish list for flying assets?
CNS. Indian Naval Aviation has proved its mettle both in combat and in peacetime, over the six decades since its inception, proving it to be worthy of presentation of President's Colour. Naval Aviation is set for further growth, which includes asset modernisation and infrastructure development. A substantial number of Capital cases for new aircraft inductions, plans for commissioning of additional Air Stations/ Naval Air Enclaves and development of new infrastructure for both operations and maintenance, are on the anvil. It gives me immense satisfaction to state that Naval Aviation is steadily progressing towards a multi-faceted and future-ready arm, by envisioning, nurturing and rapidly inducting futuristic platforms, sensors, weapons and operating philosophies. Naval Aviation arm today, is well poised to safeguard India's interests across the Indian Ocean Region and beyond.