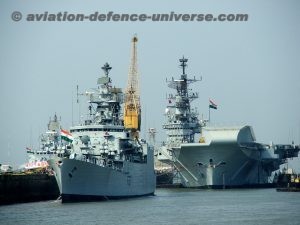 Overseas Operations
1.                 IDEX/ NAVDEX 17 at UAE.      INS Sunayna was deployed to Abu Dhabi, UAE from 10 Feb-12 Mar 17 to participate in the International Defence Expo 2017 (IDEX 17) and Naval Defence Maritime Security Expo 17 (NAVDEX 17).
2.                 Langkawi International Maritime and Aerospace Exhibition (LIMA) – 2017.  LIMA is a biennial maritime exhibition organised by the Malaysian Navy. It is aimed at improving maritime cooperation and bringing together military and civil industrial partnership. IN has been participating regularly in LIMA. This year, IN ship Kora participated in LIMA 17 at Langkawi, Malaysia, from 20 – 26 Mar 17.
3.                 Overseas Deployment of Eastern Fleet Ships.   Ships of the Eastern Fleet comprising INS Sahyadri, Shivalik, Kamorta, and Jyoti were deployed to the Southern Indian Ocean and Western Pacific in May-Jun  17. The ships made port calls at Singapore, Kuantan, Jakarta, Surabaya, Port Moresby and Fremantle.
4.                 Eastern Fleet OSD for ASEAN and INDRA 17.  EF ships Satpura and Kadmatt were deployed for ASEAN International Fleet Review (IFR) and INDRA-17, an annual bilateral exercise with the Russian Navy.
5.                 International Maritime Review (IMR).   The IMR was held by Singapore Navy on 15 May 17 to commemorate its 50 years. The Indian delegation for IMR was headed by Admiral Sunil Lanba, PVSM, AVSM, ADC, the Chief of Naval Staff. IN ships Sahyadri and Kamorta participated in the IMR.
6.                 Seychelles National Day Celebrations.     INS Sunayna visited Seychelles from 26-30 Jun 17 to participate in Seychelles National Day celebrations. A march past was carried out by a naval contingent from the ship and chetak helicopter participated in the Fly Past activities.
7.                 Overseas Deployment of Western Fleet Ships.    Four ships of the Western Fleet proceeded on Overseas Deployment to the Mediterranean Sea/ Atlantic Ocean. One of these ships also called on five ports in the West Coast of Africa. The ships visited Port Said and Alexandria (Egypt), Souda Bay (Greece), Toulon (France), Valencia (Spain), Haifa (Israel), Jeddah (Saudi Arabia),Plymouth(UK), London(UK), Lisbon(Portugal), Casablanca(Morocco), Lagos(Nigeria), Luanda(Angola), Port Walvis(Namibia), Cape Town(South Africa), Port Louis(Mauritius) and Valencia (Spain).
8.                 First Training Squadron – Overseas Deployments.  The first Training Squadron comprising IN Ships Tir, Sujata, Shardul, Tarangini, Sudarshini and Indian Coast Guard Ship Varuna are responsible for Sea training of Executive branch officers after they complete their training at Indian Naval Academy. The ships undertake deployment across the Indian Ocean to teach the nuances of life at sea to trainee officers. The sail training ships, Tarangini and Sudarshini undertook oceanic voyages to nurture the art of sailing amongst young officers. The details of overseas deployment in 2017 are given below:-
Ser
Ships
Date
Port
Remarks

(a)

Tir Shardul Sujata Sarathi

March 02 –  April 02, 2017

Port Louis, Port Victoria and Male

Spring term 2017

(b)

Sudarshini

March 05 –  April 04, 2017

Port Victoria

(c)

Tir Sujata Sarathi and Shardul

October 03 –  November 06, 2017

Penang, Jakarta and Colombo

Autumn term 2017
9.                 INSailing Vessel (INSV) Mhadei.  INSV Mhadei, with all women crew (06 officers), departed Goa on 02 Nov 16 and arrived Cape Town on 23 Dec 16. Thereafter, the vessel participated in Cape to Rio Race 2017, with 06 officers onboard (including 02 lady officers). On successful completion of the race she entered Rio de Janeiro on 22 Jan 17 and departed on 01 Feb 17. Subsequently, the ship entered Cape Town, South Africa on 25 Feb 17 and arrived Goa on 22 May 17.
10.             Navika Sagar Parikarma. Six naval women officers are undertaking Navika Sagar Parikrama on an Indian-built 56 feet long Sailing Vessel, INSV Tarini. This is first Indian all-women crew circumnavigation of the globe under sail. Expedition was flagged-off from Goa on 10 Sep 17 and is expected to return to Goa in Apr 18.
Major Exercises
11.             Ex Taiyaar-17.  Ex Taiyaar 17 was conducted in Jan 17. The exercise is an annual feature which allows the Naval Commands to fully prepare and exercise transition from a state of peace to one of hostilities and address any shortcomings that may be encountered. Various facets that were exercised included Op logistics, action stripping, Mine & War watching organisation, deployments by Fast Intercepter Crafts (FICs), acceleration of Refit etc.
12.             TROPEX-17.  A Theatre Level Operational Exercise – TROPEX 17, was conducted on the Western Seaboard in Jan-Feb 17. Extensive participation of Army, Air force and the Coast Guard, including Marine Commandos (MARCOS) and Para Special Force (SF) was the highlight of this year's exercise.
13.             Joint Amphibious Workup.  Joint amphibious workup by IN and Indian Army was conducted from 19 – 31 Mar 17 off Karwar.IN ships Jalashwa and Gharial along with over 1000 personnel of 91 Infantry Brigade of Army participated in the exercise.
14.             Exercise PARIKSHAN.  Western Naval Command conducted operational level Table Top Tri-Service wargame titled 'Exercise PARIKSHAN' from 07-09 Aug 17. Representatives from Naval Headquarters, and operational commands of the Army and Air Force in the region also participated in the wargame.
15.             DANX – 17.   The Joint Services Exercise 'Defence of Andaman and Nicobar Exercise' (DANX-17) was conducted in Andaman & Nicobar Command from 20-25 Nov 17. IN/ICG Ships, IN/IAF/ICG aircraft and Army troops from ANC and other Commands of IN, IA & IAF participated in the exercise. The successful conduct of the exercise proved unparalleled synergy achieved at ANC between the three services.
Exercises with Foreign Navies
16.            Exercise MALABAR 2017.  The 21st edition of Ex Malabar was conducted at/ off the port of the East Coast of India from 09-17 Jul 17. IN, US Navy and the Japan Maritime Self – Defence Force (JMSDF) participated in the exercise. The primary objective of the exercise was to enhance maritime cooperation and interoperability amongst the participating navies. A total of 16 ships, 02 submarines, 95 aircraft, Marine Commandos (MARCOs) and Special Forces (SFs) participated in the exercise.
17.             VARUNA 17.        The Western Fleet ships participated in bilateral exercise VARUNA 17 with French Navy in Apr 17 off Toulon, France. INS Trishul, Mumbai and Aditya along with integral helicopters, participated in the Exercise.
18.             KONKAN 17.   INS Tarkash participated in bilateral Exercise Konkan 17 with Royal Navyin May 17 off UK. Ship visited Plymouth and London during the exercise and also participated in HMS Tricomalee Bi-centenary year celebrations and cultural events at London as part of 'India-UK Year of Culture'.
19.             Exercise SIMBEX.  Ex – SIMBEX, the annual bilateral exercise with Republic of Singapore Navy was conducted at Singapore from 12 – 21 May 17. IN ships Shivalik, Sahyadri,Kamorta and Jyoti participated in the exercise. The ships also participated in the International Maritime Defence Exhibition during the period.
20.             Exercise Indra 2017.  Indo-Russia Joint Tri-Services Exercise INDRA-17 was conducted off Vladivostok, Russian Federation from 19-29 Oct 17. This was the first ever Tri-Services bilateral military exercise between the two countries. The Naval Operations of exercise were conducted off Vladivostok in the Sea of Japan (Peter the Great Bay). The amphibious operations were conducted at Cape Klerk, about 30 nm SW of Vladivostok. The exercise was conducted in the following Phases:-
(a)              Harbour Phase     –        19-24 Oct 17 at Vladivostok
(b)             Sea Phase             –        25-28 Oct 17 off Vladivostok/ Cape Klerk
21.             AUSINDEX 2017.   The second edition of biennial Australia-India Maritime Bilateral Exercise (AUSINDEX) was conducted at/ off Fremantle, Australia. The exercise was conducted from 13-19 Jun 17. The Harbour Phase of AUSINDEX-17 was conducted at Fremantle (HMAS Stirling) from 13-16 Jun 17. The Sea Phase was conducted off West coast of Australia in the Western Australia Exercise Areas (WAXA) from 17-19 Jun 17.
22.             SLINEX 17.    The Eastern Naval Command hosted Sri Lanka-India Naval Exercise, SLINEX 17, from 07-14 Sep 17. Srilanka Naval Ships Sayura and Sagara and IN Ships Gharial and Kora participated in the exercise. Harbour phase included various training interactions. The Sea phase was conducted from 11-14 Sep 17.
Coastal Security and Anti-Piracy Operations
23.             Coastal Security.  IN and ICG ships and aircraft in coordination with each other are adequately deployed for Coastal and Offshore Development Areas security. In addition the following were undertaken by IN units:-
(a)              Coastal Security Exercise 'SagarKavach'.  Coastal security exercises 'SagarKavach' were conducted throughout the year.
(b)              Op Avloka.  IN ships are being deployed for Op Avloka (off Gujarat and Maharashtra coast) for coastal surveillance during the monsoons since 2010, to undertake coastal surveillance.
(c)               Op Avardhan.  IN aircraft are deployed for Op Avardhan to maintain continuous aerial coastal surveillance of the West coast of India including L&M Islands. Similar sorties are also undertaken in the East coast and the A&N Islands to augment coastal surveillance along with IN ships.
24.             Anti-Piracy Patrol.  As part of its wider role of providing security to shipping in the Indian Ocean Region, the Indian Navy continues to deploy one ship for anti-piracy patrol in the Gulf of Aden. A total of 65 IN warships have been deployed till Dec 17, which have safely escorted more than 3788 (including 405 Indian flagged) ships with over 24,858 mariners embarked. Till date the IN has thwarted 44 piracy attempts and apprehended 120 pirates. The INremains committed to ensuring Good Order at sea in the Indian maritime zones, and towards ensuring freedom of navigation in the high seas including off Somalia. IN's presence in this region is being maintained to ensure safety and security of Indian trade.
25.             There has been an increase in piracy activities in the Gulf of Aden/ off Somali coast in 2017, as compared to the last four years. IN ships have been instrumental in thwarting following piracy attempts in the Gulf of Aden. Details of IN  contribution are given below:-
(a)   Indian Dhow Al – Kausar.  An Indian dhow, AlKausar was hijacked on 01 Apr 17. IN ship Sharda, deployed for anti – piracy patrol in the Gulf of Aden since 06 Apr 17,was diverted off Hobyo, Somalia to monitor the situation and render necessary assistance to the dhow. On release after negotiations, Al Kausar was safely escorted by Sharda to Kismayo, Somalia. During the passage to Kismayo, the dhow was approached by two skiffs; however, Sharda prevented any further incident.
(b)              Bulk Carrier OS35.  In another incident of piracy attack, a Bulk Carrier, OS 35 (with 19 Filipino crew onboard) reported piracy attack on 08 Apr 17. IN ships Mumbai,Tarkash, Trishul and Aditya operating in the area were diverted to provide assistance. PLA (N) ship was also in the area. IN undertook continuous aerial surveillance to sanitise the upper decks of the merchant ship and one Prahar was made stand-by. Under the aerial surveillance of the IN helo and on receiving 'all clear signal' from the IN that no pirates were visible on the upper decks, PLA(N) personnel boarded the ship. It was ascertained that pirates had abandoned/ fled the ship.
(c)               Suspicious Skiffs. On 16 May 17, based on an alarm raised by Merchant Vessel Lord Mountbatten, Sharda apprehended two mother boats along with 7-8 skiffs. Ship undertook boarding and search operations, during which arms and ammunition were confiscated and thereafter boats were released in absence of any other piracy triggers.
(d)              MV JagAmar.  Whilst escorting Indian flagged vessel MV JagAmar (with 26 Indian crew onboard) in the Gulf of Aden on 06 Oct 17, INSTrishul detected a pirate boat carrying out manoeuvres in the vicinity of the merchant vessel.  Trishul closed the boat for investigation and launched her helicopter (with sniper embarked) towards the boat immediately. Under the surveillance of the helicopter, ship's boat with Prahar (Marine Commandos) boarded the pirate boat. All the piracy triggers including the AK 56 with rounds were confiscated by the ship's boarding team to prevent any piratical action by the boat crew. All Indian crew onboard MV Jag Amar was safe and the merchant vessel safely proceeded to her next port of call.
Foreign Cooperation
26.    36th Indian Scientific Expedition to Antarctica.Hydrographic survey team consisting of one Long Hydrography course qualified officer and one Hydrographic sailor participated in 36th Indian Scientific Expedition to Antarctica from Dec 16 to Mar 17 for surveying India Bay area.
27.   Operational Sea Training – Foreign Ships.  The maiden Staff Sea Checks (SSC) as part of Operational Sea training of Seychelles Coast Guard Ship Topaz (06-11 Feb 17) and Mauritius Coast Guard Ship Valiant (08-13 May 17) was undertaken which was tailor made to suit the respective ships and their equipment fit.
28.  SAR Operations at Maldives.  The Indian Navy was intimated by DA, Male about a SAR request from the Government of Maldives on 19 May 17, regarding a civilian Landing Craft Maria 3 with six crew (including a lady) being missing. Immediately an Advanced Light Helicopter (ALH) of the Indian Navy which is deployed at Maldives was launched and IN ship Kirch which was deployed for EEZ surveillance of Maldives was diverted to the search area. Subsequently, on 20 May 17 an IN Dornier aircraft was deployed to augment the SAR operations. The Dornier detected Maria 3 and directed Kirch to the Landing Craft. Despite inclement weather and rough seas, Kirch rescued all the crew members of Maria 3 and safely handed over the crew members to the Government of Maldives.
29.    33rd Annual National Conference of the Marine Medicine and Allied Sciences. The 33rd Annual National Conference of the Marine Medicine and Allied Sciences was held at INHS Asvini, Mumbai from 31 Aug-01 Sep 17. The event served as a platform for multi-dimensional imbibing of ideas and concepts in the field of Naval medical services. 22 Delegates from 09 FFNs (Friendly Foreign Navies) (Indonesia, UAE, US, Bangladesh, Kenya, Oman, Sri Lanka, Myanmar, Vietnam) participated in the conference.
30.     Foreign Service Attaches. A visit of Foreign Service Attaches (FSAs) was organised at Kochi on 21 Aug 17, and at Indian Naval Academy (INA) from 22-24 Aug 17.
31.     Relief Material to Bangladesh by INS Gharial.   As an aftermath of the Rohingya refugee crisis in Bangladesh, INS Gharial, an amphibious ship was loaded with 777 tons of relief material which was handed over to the Bangladesh Govt from 25-28 Sep 17.
32.     Bangladesh Relief Operations.  IN shipSumitra, based on anticipation, was deployed in the Northern Bay of Bengal to provide immediate assistance in the aftermath of Cyclone 'Mora'. During this deployment, the ship rescued 33 Bangladeshis found stranded at sea and also recovered one body. On completion of search and rescue operation at sea, Sumitra entered Chittagong AM 01 Jun 17 for rendering HADR assistance. Govt of Bangladesh conveyed their gratitude to the Government of India and the crew members of IN ship Sumitra for rescuing Bangladeshi nationals at sea under difficult circumstances and for the relief supplies.
33.   Relief Operations in Myanmar.  After sailing from Chittagong, IN ship Sumitraproceeded to provide relief assistance to Myanmar, post cyclone 'Mora'. The ship visited Yangon from 06 – 08 Jun 17 during which she provided necessary assistance.
34.    SAR Operations for Missing Crew of Mexican Ship Cuauhtemoc.  A lady cadet had fallen overboard from Mexican Sail Training Ship Cuauhtemoc, on 11 Jun 17 in position 560 nm West of Goa. A total of four P8I aircraft sorties were undertaken from 11 – 13 Jun 17 for SAR. IN ships Teg and Mysore (with one Chetak and one SK 42B) were also deployed to undertake SAR operations. Unfortunately, the body of the lady Cadet was not sighted and the search was called off by the Mexican authorities on 16 Jun 17. Mexican Embassy conveyed its deep gratitude for the prompt and significant search effort mounted by the IN.
35.    SAR Operations at Port Moresby.  As part of the Eastern Fleet OSD, IN ship Sahyadri entered Port Moresby, Papua New Guinea (PNG) on 12 Jun 17. The Embassy of India, PNG requested the ship to undertake SAR operations to locate a PNG fishing vessel which was suspected to have sunk approximately 7nm from the coast off Port Moresby with four crew (two Fijians of Indian origin and two PNG nationals) onboard. Chetak helicopter (ex-Sahyadri) was launched and the capsized fishing vessel was detected. The ship informed the exact position of the capsized fishing vessel to the PNG authorities. Whereas one crew member swam ashore earlier, the three remaining crew members were not sighted by the helicopter.
36.      Assistance to Iranian Boat.  At 1215 h (IST) on23 Nov 17, INS Trikand received a distress call from an Iranian Trawler 'Sheetab' in the Gulf of Oman.  The trawler had 20 crew (all Iranian) onboard, including two2 minors, and was adrift for five days due to engine failure.  Trawler was also short of water and rations.  Technical crew of INS Trikand undertook repairs of the trawler.  Requisite amount of Lub Oil, fresh water and provisions was also provided to the trawler after which it proceeded towards her destination.  INS Trikand's assistance significantly helped stricken Iranian trawler crew and restored operational availability of the boat.
37.      Goa Maritime Conclave (GMC).    The maiden 'Goa Maritime Conclave' (GMC) was conducted at Naval War College, Goa from 01 to 02 Nov 17. Chiefs of Navy/ Heads of Maritime Agency/ representatives of Bangladesh, Indonesia, Maldives, Malaysia, Mauritius, Myanmar, Seychelles, Singapore, Sri Lanka and Thailand attended the Conclave. The event was inaugurated by the Hon'ble Raksha Mantri Smt Nirmala Sitharaman at Naval War College, Goa on 01 November 2017. The Conclave was aimed at 'Addressing Regional Maritime Challenges' wherein the deliberations were focused on emerging maritime threats and force structuring, maritime domain awareness, maritime security architecture, and maritime security challenges in the Indian Ocean Region (IOR).
38.             Hydrographic Assistance.
(i)                Survey of Tanzania.INS Darshak was deployed for 33 days from 26 Oct 16, for the survey of Port Tanga. INS Sarvekshak has been deployed for 41 days from 14 Nov 17 to Tanzania for the conduct of hydrographic surveys based on requests received from Government of Tanzania. The deployment of IN surveying ships to East Africa and successful completion of surveys has once again proved Indian Navy's reach and capability and has contributed immensely towards strengthening the bilateral relations.
(ii)              Survey of Mauritius. INS Darshak was deployed for 31 days from 03 Dec 16 to Mauritius for the conduct of hydrographic surveys based on requests received from Government of Mauritius.
(iii)           Survey of Sri Lanka. INS Darshak was deployed for 56 days from 03 Mar 17 whilst INS Sutlej has been deployed for 59 days from 24 Oct 17 to Sri Lanka for the conduct of hydrographic surveys based on request received from Government of Sri Lanka.
39.             Exclusive Economic Zone (EEZ) Surveillance.  The IN regularly undertakes EEZ surveillance of Maldives, Mauritius and Seychelles.
(a)              EEZ Surveillance of Maldives.  During EEZ surveillance a special team from Cankarso consisting of IN divers carried out underwater hull welding onboard Maldives National Defence Force (MNDF) ship Huravee, thereby enabling the operational availability of the ship to the MNDF.
(b)              EEZ Surveillance of Seychelles and Mauritius.  IN ship Tarkash was deployed for EEZ surveillance and provided Outer Island Support to Seychelles and Mauritius from 21 Oct – 09 Nov 17. The ship undertook personnel and stores transfer from Port Louis to outer Island (which is about 600nm North of Port Louis) including transhipment of generator parts which were considered critical for providing electricity to the island.
40.             Assistance to Merchant Vessel (MV) MSCDaniela.  The High Commissioner of India, Colombo requested for Indian Navy's assistance to MV MSC Daniela (a Panama flagged container vessel) that had reported a fire onboard on   04 Apr 17, 24 nm West of Colombo. INships Darshak and Gharial along with Indian Coast Guard ship Shoor were deployed to undertake fire fighting operations. Darshak's helicopter was utilised for locating the seat of fire and directing fire fighting efforts which were undertaken by CGS shoor. The fire was brought under control on 06 Apr 17 and all crew were reported to be safe.
41.             Supply of Water Jet Fast Patrol Vessels.  India supplied two Water Jet Fast Patrol Vessels to Mauritius Coast Guard. The vessels named Valiant and Victory were constructed at M/s GSL under Indian Navy's supervision. Naval ships towed both the ships to Mauritius where they were commissioned into Mauritius Coast Guard on 10 Dec 16 and 16 Aug 17 respectively.
42.             Commissioning of SLNS Sayurala. The first AOPV built by M/s Goa Shipyard Limited was handed over to Sri Lanka on 22 Jul 17. The AOPV was commissioned as SLNS Sayuralaon 02 Aug 17 at Colombo by the Sri Lankan President. Vice Admiral AR Karve, FOC-in-C (South), attended the commissioning ceremony.
43.             Medium Refit of Seychelles Patrol Ship Topaz.  Seychelles Coast Guard ship Patrol Ship Topaz underwent Medium Refit at Naval Dockyard (Visakhapatnam) from Feb 16 to Jan 17. On completion of refit, the ship was ceremonially handed over to the Seychelles Coast Guard Commander on 16 Feb 17. The ship was thereafter towed back to Seychelles by INS Suvarna.
44.             IN Dornier Detachment to Colombo, Sri Lanka.  IN Dornier aircraft detachment was deployed to Colombo, Sri Lanka from 19 – 22 Jun 17. The Dornier detachment undertook training of eight Sri Lankan Navy personnel and five Sri Lankan Air Force personnel on operational capability of the Dornier including conduct of Search and Rescue operations.
Navy to Navy Interaction
45.              Passing out Parade of INA, Reviewed by Commander of Sri Lankan Navy.  VAdm Ravindra C Wijegunaratne, Commander of Sri Lankan Navy visited Indian Naval Academy (INA) from 26-27 May 17 for reviewing of the Passing Out Parade (POP). This is the first occasion of a foreign dignitary reviewing the Passing Out Parade at INA.
46.             Exercises for IOR Littorals. In a significant step taken towards synergising our HADR efforts with that of our neighbours, the Indian Navy invited 'Observers' from Sri Lanka, Maldives, Bangladesh and Myanmar to participate in the 'Annual Tri-Service HADR Exercise' conducted by the Indian Navy from 18 to 20 May 17 on the Western Coast. Further, to expose mid-level leaders of IOR littoral nations to Blue Water operations, the Indian Navy conducted 'Exercise SAMBANDH', from 25 to 25 Oct 17, wherein the Indian Navy's capabilities were showcased to 'Observers' from 18 Friendly Foreign Countries, which included, Sri Lanka, Bangladesh, Vietnam, Mauritius, Maldives, Seychelles, Mozambique, Oman, Myanmar, Thailand, Indonesia, Iran, Kenya, UAE, Malaysia, Qatar, Tanzania and Madagascar.
47.             Refit of Mauritius Coast Guard Ship Guardian. IN is presently undertaking Service Life Extension Refit of MCGS Guardian at Naval Dockyard, Mumbai w.e.f. 01 Dec 17 for a duration of six months.