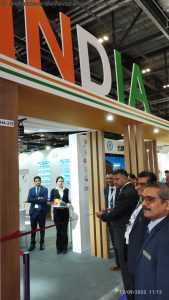 Excel Centre, Greenwich, London. 12 September 2023. It was a moment of pride to see India written in national colours on a pavilion at the just opened DSEi 2023. 11 AM and it was nostalgic to see the pavilion inaugurated by Vikram Doraiswami, High Commissioner of India to UK. He was accompanied by the Heads of Delegations of various DPSUs participating along with the Indian private sector which makes a major force behind the Make in India drive.
The MoD, GoI, is showcasing the self reliance, technological prowess and advanced capabilities through GRSE, MIL, AW&EIL, YIL & BDL. The SMEs & MSMEs who form a major chunk of the pavilion are here under the aegis of Indian Chambers of Commerce(ICC). As always UP's defence major which also happens to be India's leading multinational manufacturer, MKU has its booth in the pavilion area and is in the process of expanding it's European market base.
But DSEi regulars like ADU missed the presence of Bharat Electronics Limited and DRDO which had major participation both inside and in the outer exhibits area in previous editions.
Industry bodies FICCI and SIDM have come with industry delegations and the members are I am sure busy identifying new customers, reiterating faith in the already existing ones and interacting with prospective clientele base.
The Ministry of Defence, Government of India, is showcasing the technological prowess and advanced capabilities of five of its several Public Sector Undertakings at the India Pavilion of Defence and Security Equipment International (DSEI) Exhibition, London.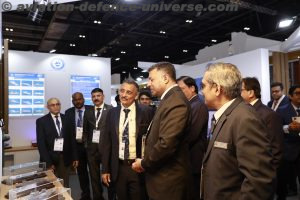 GRSE is one of India's premier defence shipyards based in Kolkata that has set a record in the country by building and delivering 108 warships. Two of these were exported while the remaining went to the Indian Navy and Indian Coast Guard. Presently, GRSE is in the process of building 19 warships for the Indian Navy, including three Advanced Guided Missile Frigates. GRSE is also a pioneer in the development of modular steel bridges and also builds deck machinery and marine diesel engines. It is now exploring the possibility of building commercial vessels along India's west coast. GRSE has also made major progress in the development of green vessels and is building a zero-emission ferry.
Advanced Weapons & Equipment India Limited (AWEIL) is a DPSU under Govt of India, Min of Defence. AWEIL is a market leader in manufacturing comprehensive range of weapons with core competency in Small, Medium and Large Caliber weapons and Ammunition Hardware. AWEIL's 8 production units have proven integrated facilities for high-quality, cost-effective manufacturing. As a part of Global Outreach, AWEIL is endeavouring to forge alliance with foreign companies in defence manufacturing including Artificial Intelligence to accomplish the 'Make in India' mission of Government of India.
Bharat Dynamics Ltd (BDL) has developed and delivered some of India's major weapons systems such as the Akash Surface to Air Missile, Medium Range Surface to Air Missile, Astra Supersonic Air-to-Air Missile, Nag Anti-Tank Guided Missile, its helicopter-launch version Helina, Smart Anti-Airfield Weapon, Light Weight and Heavy Weight Torpedoes and Anti-Submarine Warfare Suite. BDL aims to become a world leader in the manufacture of aerospace and underwater weapons systems and has already attracted a number of international customers.
MIL, the India's biggest manufacturer and market leader is engaged in Production, Testing Research & Development and Marketing of comprehensive range of ammunition & explosives for Army, Navy, Air force & Para-Military Forces. MIL is proud to have proven integrated base for production of ammunition, various kinds of initiatory Compositions, Propellants and High Explosives, with its foot print in 12 state-of-the-art manufacturing units located across India. MIL product range includes Small, Medium and Large Caliber ammunition alongwith Mortars, Rockets, Aerial Bombs, Explosives and Propellants. With customers in more than 20 countries across the globe and more than 30 exported products, MIL is the eading defence exporter of India.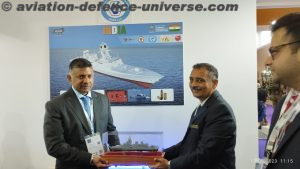 Yantra India Ltd( YIL) is a Military grade Hardware manufacturer, has its headquarters at Nagpur in India. YIL has eight production units spread across the country which are engaged in production, testing, logistics, research & development and marketing of a wide range of defence products related to land, sea and air systems. YIL manufactures cartridge cases, shells, Pinaka rocket with pod, 105 mm IFG (Indian field gun), 120 mm and 81 mm mortar, 125 mm HE, 130 mm HE, Shell 155 mm ERFB (BB), (BT) & HE, 30 mm Ghasha, 140 mm rocket, ammunition packing boxes, various fuzes, magazines, T-90 track assembly, hand grenade body, castings of Arjun tank, brake drum, various gun barrels of 105 mm to 155 mm and up-gunning of 130mm to 155mm Sharang gun etc. The company has plans to promote its products across Africa, Asia, countries in the Nordic region, Europe, North America and the Middle East.
Make in India and Aatmanirbhar Bharat are the key words being showcased at the India Pavilion here at DSEi 2023. Day1 was surprisingly a steady stream of visitors' visits both planned and impromptu at the pavilion.