M777 & K9Vajra guns enter the inventory
6×6 Field Artillery Tractors incorporated
By Sangeeta Saxena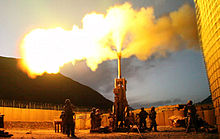 New Delhi. Indian Army's chant of asking for more firepower can now lessen as the powers that be have answered the prayers. Artillery Corps got richer by the entry of M777 Ultra Light Howitzers, K-9 Vajra-Tracked Self Propelled Guns and 6×6 Field Artillery Tractors.
In a ceremony Nirmala Sitharaman, Defence Minister dedicated the three to the nation at Devlali Field Firing Ranges  in the presence of the Minister of State for Defence Dr Subhash Ram Rao Bhamre, General Bipin Rawat, Chief of the Army Staff, senior serving officers of the Indian Army & Ministry of Defence, representative of manufacturing industries as also dignitaries from the governments of USA and South Korea.
Sitharaman said, "It is after 30 years that we are procuring such guns. Under the new government since 2014, procurement of Army equipment has been expedited. Under the PM's guidance, negotiations were started and within four years we inducted these guns and many more will be inducted in the future."
The 155mm, 39 Calibre Ultra Light Howitzers have been procured from USA under government to government foreign military sales and will be assembled in India by BAE Systems in partnership with Mahindra Defense. The gun system is versatile, light weight and can be heli-lifted, thereby providing much needed flexibility in employment in various terrains obtainable in the country. The Army is also going to raise seven regiments of 145 M777 howitzers.
Five guns each will be delivered to the Army beginning August 2019 and the entire process will be completed in the following 24 months. The first regiment will be completed by October next year, the spokesperson said.
"The Indian Army is receiving an extremely reliable and battle-proven artillery platform," Joe Senftle, vice president and general manager of BAE Systems' weapon systems business , said while attending the event. "The M777 brings a new level of capability to the artillery unit by offering rapid deployment and extreme accuracy. It can operate in areas that are difficult to access and is also very easy to maintain."
It is manufactured by BAE Systems' Global Combat Systems division. Prime contract management is based in Barrow-in-Furness in the United Kingdom as well as manufacture and assembly of the titanium structures and associated recoil components. Final integration and testing of the weapon is undertaken at BAE's facility in Hattiesburg, Mississippi.
"The M777 ULH is more than a very effective piece of artillery technology," said Nik Khanna, managing director India, BAE Systems . "With the M777 program, BAE Systems has made the first step of our substantive Make-in-India commitment, which includes our pledge to develop a network of Indian suppliers for our global supply chain and deepen our relationship with industry in India.  We are committed to a strong and collaborative working relationship between BAE Systems, the Indian Armed Forces and Indian industry."
India's Ministry of Defence cleared the proposal for buying 145 guns for US$660 million on 11 May 2012 through the US Government's Foreign Military Sales (FMS) process. On 2 August 2013, India requested the sale of 145 M777 howitzers for US$885 million. On 24 February 2014 the purchase was again postponed. On 11 May 2014 the purchase was cleared by India's Defence ministry. On 11 July 2014, the Government of India announced that it would not order the guns because of cost issues. On 22 November 2014, the selection process was restarted under the "Make In India" program. On 13 May 2015, the defence ministry approved ₹2,900 crore to buy 145 M777 ultralight howitzers from the US. On 26 June 2016, it was announced that 145 guns will be purchased by India for US$750 million.On 30 November 2016 Indian government completed the deal to buy 145 howitzers from the US.The deal was completed in December 2016. India  received the 1st batch of two M777 howitzers in May 2017.
"This is a landmark event with the first M777s being delivered to the Indian Army. It is a product of our long-standing business partnership with BAE Systems," said SP Shukla, Group President – Aerospace & Defence Sector, Mahindra Group, and Chairman – Mahindra Defence Systems. "In this program each of the M777 howitzers have value addition from Mahindra Defence. I believe that this is the first step towards Make-in-India with much bigger programs to follow."
Another successful story for Indian Artillery under Make in India is the K9Vajra-Tracked Self Propelled Guns The entire process of inducting 100 K9 Vajra at a cost of Rs 4,366 crore will be completed by November 2020. The first batch of 10 guns will be delivered this month and the next 40 guns will be delivered in November 2019 and another 50 in November 2020.
The first regiment of K9 Vajra, first-ever artillery gun manufactured by the Indian private sector, is expected to be completed by July 2019. The first ten K9 Vajra 155mm/52 calibre guns have been imported from Hanwha Techwin of South Korea in semi knocked down state and have been assembled by L&T in India. The balance 90 guns will be largely manufactured in India with some major assemblies coming from South Korea. Its induction will enhance firepower capabilities.
"It's a great accomplishment for us, as ten K9 Vajra guns assembled by us under phase one program, are being inducted in the Indian army ahead of schedule. The 155 mm/52 caliber tracked self-propelled gun system hit the target with great precision. Two more guns are being readied at our factories and we shall start delivering under the second phase of the program in a couple of months." said Jayant Patil, Head for Defence Business & Vice President of L&T.
The gun has a maximum range of 28-38 km. It is capable of burst firing three rounds in 30 seconds, intense firing of 15 rounds in three minutes and sustained firing of 60 rounds in 60 minutes, he said.
The third incorporation is of  an indigenously developed 6×6 field artillery tractor by Ashok Leyland was also formally inducted to provide the much awaited replacement for the ageing fleet of Artillery Gun Towing Vehicles.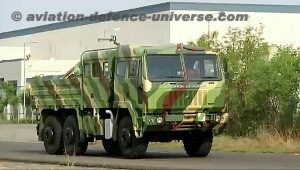 It had bagged  this order worth ₹800 crore from the Ministry of Defence to develop 455 units of 6×6 FAT under the 'Make In India' programme. "We plan to execute this order in the next two years. As far as the stallions are concerned, we were only making 4×4 all this while. Now, the Ministry wants us to make 6×6, 8×8 and 10×10, on tender basis. Stallion is a regular business for us," Nitin Seth, President – LCV & Defence, Ashok Leyland had informed ADU in the month of April 2018.
The FAT 6×6 is an all-terrain vehicle designed to tow huge artillery guns to almost anywhere in the battlefield, transport troops and supplies. It's designed to be used in every kind of terrain – right from the high mountains in the Himalayas to the blistering deserts of Rajasthan. Ashok Leyland says that the FAT 6×6 can be used at altitudes of up to 5,500m above sea level (that's around 140m higher than Khardung La) and -40°C, as well as in temperatures of around 55°C.
The dedication event included an  display of equipment & firepower by the guns of Indian Artillery. Also on display were indigenous gun systems/ surveillance & target acquisition systems that have been recently introduced in service.