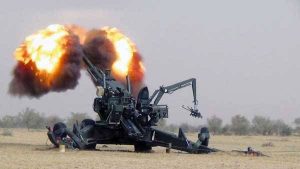 Jabalpur. 09 April 2019. Indian Army received the first batch of six indigenously built artillery guns Dhanush. The 155mm x 45 calibre gun has been developed and manufactured by the Ordnance Factories jointly with Army.

The guns were handed over by Saurabh Kumar, Director General, Ordnance Factories and the OFB chairman, at a ceremony organised at the Gun Carriage Factory in Jabalpur, Madhya Pradesh.
The OFB had received bulk production clearance in February, and the initial order of 114 guns was placed by the Army.
Three Dhanush guns were handed over to the Indian Army for user trials on July 2016. Battery trials were expected to be completed by July 2017 with 18 guns entering service in 2017, 36 guns in 2018 and 60 guns in 2019, for an Indian Army order of 114 guns. But the timeline got delayed.
It was reported in July 2017 that the howitzer failed the last phase of testing, due to the shell hitting the muzzle brake. A redesign of the barrel by widening it was being considered to solve the issue. Later an investigation revealed the incident happened due to a defective shell. Further trials were conducted by firing about 5000 shells in the desert regions and icy glaciers of the Himalayas without any incident.
In June 2018, Dhanush completed final development trials. In February 2019, it was approved for series production. And the gun was officially inducted yesterday in the Indian Army.