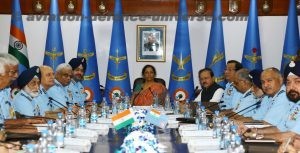 New Delhi. 10 October 2017. The bi-annual IAF Commanders' Conference was inaugurated by the defence Minister Nirmala Sitharaman . Chief of the Air Staff, Air Chief Marshal BS Dhanoa, welcomed both the Minister of defence and the Minister of State for Defence  Dr Subhash Bhamre .The CAS briefed the Ministers on the current status of the IAF and the efforts that have been made in the recent past.
During her address the Defence Minister said that the devolved powers given to the Service Chiefs should be fully utilised for achieving their capabilities. The Minister said that Air Force along with Ordnance Factory Board and DRDO should make an assessment about indigenisation under 'Make-in-India' programme. She said that the budgetary allocations should not be viewed as a constraint and should be looked at to acquire what is absolutely necessary. She said that the Government is committed to fill the gaps which have arisen due to lack of timely decision making in the last decade.
The Chief of the Air Staff while addressing the Commanders emphasised the need for continuous effort and training to maintain IAF's cutting edge. He also reiterated the IAF's role as the first responder in most contingencies and thus the need to sustain the ongoing process of capability enhancement making use of the Government's thrust on 'Make-in-India' initiative.
The Commanders' conference will be conducted over next three days till 12 Oct 17 wherein discussions will take place on various subjects that will decide the future trajectory of the Indian Air Force which includes operations, maintenance issues and various administrative initiatives that will be taken to enhance the working environment of the IAF keeping in focus IAF's core principle of 'People First, Mission Always'.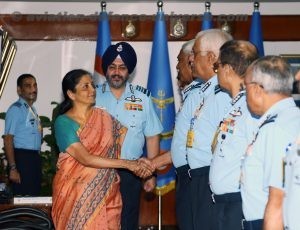 In consonance with Government of India's 'Digital India' initiative two mobile Apps for Air Force Cellular Network (AFCEL) phones called 'MEDWATCH' and 'AFCHAT' will be released during the Conference. Various other initiatives like Online Testing & Evaluation and Online Entrance Examination to further the initiative will be covered. The new look Air Force Central Accounts Office (AFCAO) website with enhanced features will also be launched. A book titled 'Aero India- Ascent through the ages' is also scheduled to be released during the conference.