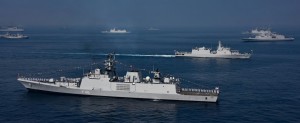 By Sangeeta Saxena
New Delhi. 04 December,2016. Navies of the world were surely united through oceans at Vishakhapatnam, sailing proudly at the International Fleet Review 2016, India's event of the 21st century till now. Twenty four ships and fifty one delegations from world over participated with an unmatched zeal , reiterating the fact that India is not only important a navy when it comes to maintaining peace and stability in the world but also a power to reckon with.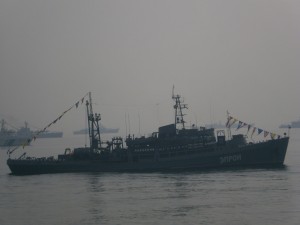 Sailing in the waters of Bay of Bengal off Vishakhapatnam harbour, these ships saluted the President of India who was aboard the INS Sumitra along with the Prime Minister Narendra Modi, the three service chiefs and a host of other dignitaries.
The foreign ships contingent led by the Russian ship EPRON, a submarine rescue support  vessel ,  commanded by Captain Denis Berge, reiterated India's long standing partnership in defence with Russia and before that USSR. The nation's  also sent a high powered designation  headed by Deputy Chief of Naval Staff Russian Navy. Turkmenistan, another off shoot of the erstwhile USSR ,had also sent a delegation headed by the Deputy Chief of Naval Staff.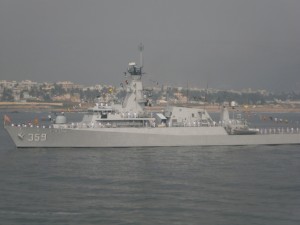 As apart of the growing relationship with India, the United States of America sent two of its naval ships deployed to Yokosuka Naval Base, Japan, to represent it at the  International Fleet Review in India  at Vishakhapatnam and are the topic of discussion everywhere at the IFR. The presence of the US  delegation led by US Chief of Naval Operations Admiral John Richardson, is a statement of proof that the world is confident of India's role in maintaining peace and stability not only in the region but also beyond.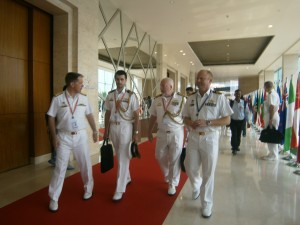 Another attraction was the representation from the United Kingdom, which shares naval history and a history of joint exercises with India. Uk has sent its ship HMS Defender to be  a part of the IFR. HMS Defender is the fifth of the UK Navy's six state-of-the-art Type 45 destroyers and is based out of  Portsmouth. It's helicopter 'Joanna' has been holding training drills in the middle of the Indian Ocean enroute.
Another of India's friend and alliance Canada was represented by  a delegation headed by Vice Admiral Mark Norman,  Chief of the Naval Staff, Royal Canadian Navy.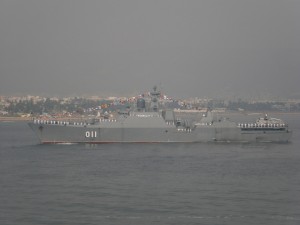 China put all rumours to rest when its Naval ships  PLAN Liuzhou (573) and PLAN Sanya(574) sailed in the waters of Bay of Bengal creating inquisitiveness and scepticism in the mind. With the no war-no peace scenario with China , one did get a feeling of should we trust this step ahead in friendship . And to keep the balance maintained Vietnamese ship  VPNS 011 Dinh Thien Hoang also sailed the Bay of Bengal today at the review.
Off Patrol Vehicle BN Amazonas with Commander Alessander Felipe Imamura Carneiro from Brazil was the only ship from South America and got a friendly response. The other South American  nation Argentina was represented by Colonel Martin Lluch , Defence Attache at the country's Embassy in India but there was no ship the participate in the review. Chile was represented by Rear Admiral Sr. Hernan MILLER Oyarzun, a sub mariner and Colonel Rodrigo Gonzalo Valdivia Concha.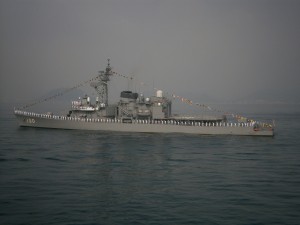 When Commander Phillip Andrew Henry  lead his ship HMAS Darwin into the waters , Australia has always been popular with Indians, was the result concluded. HMAS Darwin is a long-range escort frigate that undertakes roles including area air defence, anti-submarine warfare, surveillance, reconnaissance and interdiction. The Ship is capable of countering simultaneous threats from the air, surface and sub-surface. Meanwhile the neighbour New Zealand was represented by Commodore John Campbell,  Maritime Component Commander The Indian High Commissioner and Defence Attache.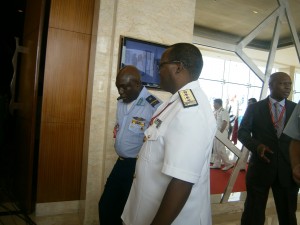 India's role in maintaining peace and stability in the Indian Ocean region made the participation of island nations of the ocean very important strategically. Srilanka, India's  closest geographically and strategically most important friend in the Indian Ocean was represented by SLNS Sayura . Commanded by Captain (ND) Hasitha Deegoda Gamage, the ship was built by Hindustani Ship Yard (PVT) LTD and joined to SLN fleet on 31st October 2000. Chief of Srilankan Navy, Vice Admiral Ravindra (Ravi) Wijegunaratne led the delegation to IFR. Coast Guard patrol boat  MCGS Huravee was Maldives representation at IFR led by Captain Hassan Sinan . Brunei Darussalam had a naval delegation representing it .
One of India's oldest  defence partner Israel too was represented by a high level delegation headed by VAdm Ram Rutberg Israeli Navy Commander in Chief.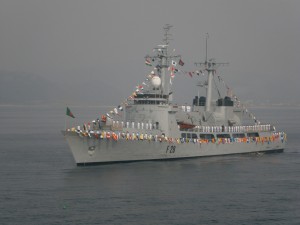 A surprise to many was the participation of Irani ship IS Alvand commanded by  Captain Mohamed Reza Ebrahimi. And also was another surprise when no ship but a delegation of South Korea headed by Vice Chief of Naval Staff represented at IFR.
Myanmar with its friendly neighbour status with India pleasantly surprised with its frigate, UMS King Aung  Zeya  built by Myanmar Naval Dockyard Headquarter in year 2005 and commissioned on 24th December, 2010,being a part of the IFR.  She is the Flag ship of 1st Fleet and Myanmar Navy as well.
And the prettiest of them all was  Bangladesh's brightly decorated BNS SOMUDRA JOY (Ex USCGC JARVIS), commissioned in Bangladesh Navy on 23 December 2013. The overall length is 115.2 m and beam width is 13.1 m. The primary role of this Ship is Defense Operation. It also performs her duties for various constabulary tasks such as Search and Rescue (SAR), Law Enforcement etc. Presently it is declared as 'Training Ship' for Bangladesh Navy. Commanded by Captain Arif Ahmed Mustafa, the ship fetched a lot of applauds.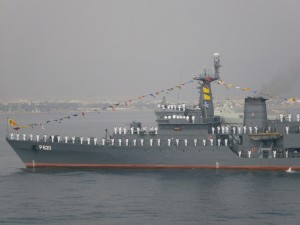 The West Asia was represented by delegations from Saudi Arabia, Bahrain and Qatar and two ships from Oman. RNOV Al Shamikh lead by Commander Saleh Bin Salim Bin Saif Al Saidi and RNOV Al Seeb with Cdr Hassan al Siyabi as its Commanding Officer, sailed amidst applause. Egypt despite a troubled situation sent a high level delegation to the IFR.
India's growing importance in the region and its alliances with South East Asia saw Indonesian ship KRI Usman Harun-359 Captain Didong Rio Duta  participating in the review. Thailand represented by H.T.M.S.SAIBURI,  a guided missile frigate class ship built by China's Hudong Ship Building, led by Captain Surakit Pho-Ngam Commanding Officer, is one of the most modern fighting ships of The Royal Thai Navy which operates a multipurpose helicopter on board. Malaysian ship  KD Lekir anchored itself at Vizag under the command of Commander Zainol bin Ahmad. Phillipines did not have a ship but did have a high powered delegation representing it.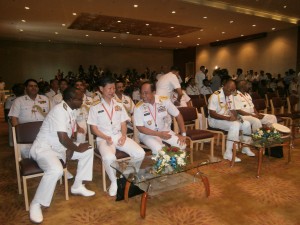 Not to be left behind Africa was represented by the Djibouti's,  Nigerian, Tunisian,  Kenyan and Seychelles' Naval Chiefs, a delegation each from Sudan and Namibia and a ship from Mauritius. Mauritius Coastguard Ship (MCGS) Barracuda which participated in the review  is a multi-mission capable Offshore Patrol Vessel operated by the National Coast Guard of Mauritius. The ship has been constructed by Garden Reach Shipbuilders and Engineers, Kolkata, India and was jointly commissioned by the Prime Ministers of Mauritius and India, at Port Louis, on 12 Mar 2015. The ship is commanded by Commander Rajneesh Kumar Dalal.  OK Guness, Assistant Superintendent of Police is the Executive Officer on board. SAS Spioenkop, the South African representation is a ship  built at Blohm & Voss shipyards in Germany .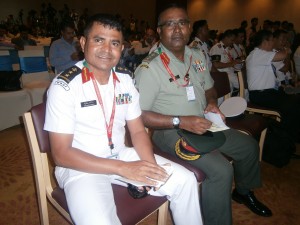 Japan's ship JS Matsuyuki led by Commander Satoshi Takaoka was a welcome guest on the waters of the Bay. Japan also came with a high powered delegation both from the Navy and the ministry. Asia-Pacific being the identified high growth region was represented by delegations from Singapore and Fiji both headed by their Chiefs of Naval Staff. Singapore CNS Rear Admiral Lai Chung Han was accompanied the Head of Naval intelligence Victor Huang.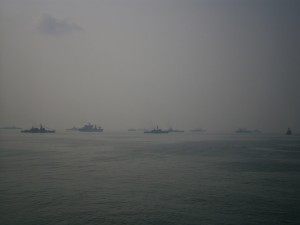 India's good bilateral ties with  European nations saw participation of designed to act alone or within a task force, the French ship FREMM Provence  under command Captain Dominique Caille  have capabilities in all fields of action: anti-air warfare, anti-submarine warfare, anti-surface warfare and land attack. Germany though had no ship to showcase had a high powered delegation headed by Vice Admiral Andreas Krause CNS German  Navy . Admiral Luis Macieira Fragoso, Chief of Portuguese Naval Staff also led a delegation to IFR. Turkey too had a delegation headed by a Rear Admiral representing it. Greece was represented by Vice Admiral Georgios Giakoumakis HN, Chief of the Naval Staff. Spain was present as a delegation led by Manuel Garat Carame, a Vice Admiral  of ALNAV/COMSPMARFOR.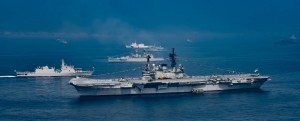 And ofcourse as expected Pakistan was not there despite getting invited through their High commission in Delhi. No prizes for guessing why.