As part of IDEX & NAVDEX Talks, which is held for the first time at the event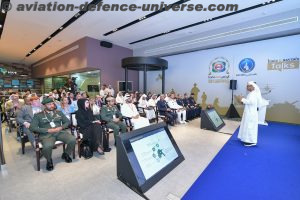 Abu Dhabi, United Arab Emirates – 22 February 2023: The International Defence Exhibition & Conference (IDEX) and the Naval Defence & Maritime Security Exhibition (NAVDEX) 2023, which are held under the patronage of His Highness Sheikh Mohammed bin Zayed Al Nahyan, President of the UAE, saw the launch of IDEX & NAVDEX Talks, which are held for the first time as part of the event. IDEX & NAVDEX Talks brings together thought-leaders, policy makers, and industry experts to discuss the most innovative technologies and solutions in the defence field.
ADNEC Group, in cooperation with the UAE Ministry of Defence, is organising the 16th edition of IDEX and the 7th edition of NAVDEX, from 20-24 February 2023.
IDEX & NAVDEX Talks, a series of free to attend engaging sessions held over 3 event days, provide an ideal platform for facilitating discussions around pressing topics in the defence and naval defence sectors. As part of the Talks, participants share insights on vital topics such as AI, autonomous systems, diversity, inclusion, and emerging technologies, which play a key role in driving efficiency, supporting decision-makers, and forecasting future needs.
As part of the first panel session, titled 'Space Technologies: Strategic Capabilities to Economic Opportunities', Elizabeth Seward, Head of Space Strategy at BAE Systems, said: "We are seeing an interesting time in space right now, particularly with the lowering of barriers of entry into space. You can now get payloads into space for $1 million or multiples of rather than the traditional hundreds of billions. We're seeing that small satellites are becoming so much more capable than ever before, allowing more organisations and countries to access space."
"Asteroid mining is approaching a stage where it is going to be a feasible activity. We can send robotic probes to asteroids, take samples and bring them back. It is not farfetched to say that we will be able to bring bigger samples back to earth in the future. We are going to see commercial space stations, people in orbit and going to the moon but we are also going to see a real change in who invests in space, who gets to be in space, and who can build things in space. This will drive huge steps forward over the next 5 to 10 years," added Seward.
Dan Tenney, Vice President for Space Strategy and Business Development at Lockheed Martin, said: "The UAE government did something very smart by recognising the need to build engineering and technical skills applicable to space so that as you advance the technology, you have people who can operate such things. Huge opportunities exist in space. We can test mining, sustainability, power and how we can sustain life in deep space. Space is widely unknown when we think about the deepness of it. We are just beginning our major space journey because now nations are coming together as allies to advance together."
"We understand there are different chemicals and compositions out there to create different forms of energy. Asteroids have a huge amount of iron and other substances within them. If we can find those, they can give us different forms of energy that don't deplete our resources here on Earth. Space is not only about outcomes, but how we improve our life here on earth. Today, we're seeing the world and nations come together and set aside our differences to collaborate and advance with each other," added Tenney.
The second session, titled 'Cyber wake-up call: A prerequisite for AI & autonomous systems' and presented by His Excellency Dr. Mohamed Al Kuwaiti, covered the impact of cyber security, its role in our daily lives, and suspicious attacks that could target various infrastructures. During the session, His Excellency Al Kuwaiti discussed the importance of humans in mitigating any risks resulting from cyber-attacks. The session also covered the importance of having a governance policy and spreading cybersecurity awareness in every company. The panel elaborated on the significant role of national and international bodies that support cyber awareness initiatives, and conduct training workshops and educational sessions.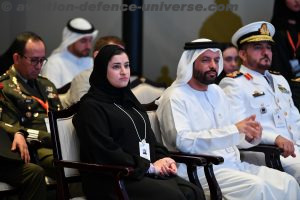 During the panel discussion, titled 'Data driven defence tech: Where should you invest and what technologies are expected in the future', Sascha Rodenberg, Defence Partner at PwC Middle East, said: "The military domain is evolving to become more driven by technologies which gather data through analytics to support commanders in making informed decisions. I cannot imagine a future of warfare that does not pivot around data analytics. Smaller nations have the competitive advantage to buy from larger nations and develop national in-house technologies."
Tariq Al Hashmi, Director of Technology Adoption & Development at the Ministry of Industry and Advanced Technology, added: "The new technological advancements, such as AI and big data analytics, are expected to have multiple uses across the defence sector. I believe that commanders are faced with several challenges in situations that require decision making without sufficient data. With all these new technologies, we will be able to obtain relevant insights from multiple sources, which would feed into our algorithms and AI technologies, to support us in making better, faster and more efficient decisions. The speed and scope of technologies have been on the rise, and I believe that technologies like ChatGPT are only the beginning. These technologies have made it necessary for us to redefine our military strategies, especially now that software is becoming more accessible. It is also important to highlight the key role of governments in driving and investing in innovation."
On the same panel, Dr. Ernesto Damiani, Senior Director of the Robotics and Intelligent Systems Institute at Khalifa University, said: "The importance of autonomous systems in decision-making is increasing, and it is now essential for people in the military domain to carefully choose the degree of autonomy and control of the technologies that they are looking to use. It's essential to partner with other entities to develop autonomous technologies and further their acceleration, which becomes possible by redesigning the landscape of suppliers."
Furthermore, Rear-Admiral Emmanuel Slaars, Joint Commander of the French Forces stationed in the United Arab Emirates and deployed in the Indian Ocean and Commander of Operation at AGENOR, provided an industry overview on 'Capability, challenges and opportunities in the maritime domain'. Slaars said: "The challenge we are facing is the lifespan of a warship that gets countered for several decades. When technology is changing at a rapid pace, we have to redefine the ships of tomorrow, to make sure they easily adapt to new technologies. Another challenge is the ability to modernise ships and increase their speeds, without having a proper structure capable of surviving for 30-40 years."
Day two of IDEX & NAVDEX 2023 also included a panel discussion titled 'Future of maritime autonomy: Enhancing capability through adoption of robotics and unmanned systems'. During the session, Bentzion, Levinson, Founder and CEO at Heven Drones, said: "If we look at where the world is now, technology is really getting to a point where it can be commercially developed and used at a large scale."
Jumaa Al Kaabi, CEO at ALDASI, added: "There is no doubt that autonomous systems will take naval operations to a new frontier. Autonomous systems will allow us to optimise the design of the ships, which will result in limiting consumption and cutting costs. Safety of the unmanned systems is highly dependent on the reliability of these systems."
Brigadier Tim Allen, Chief Executive Officer at Houbara Defence and Security LLC, said: "Traditional approaches to acquisition and procurement are inadequate if we're going to exploit this technology at the right speed. I also think there are some critical vulnerabilities that unmanned systems have around communications."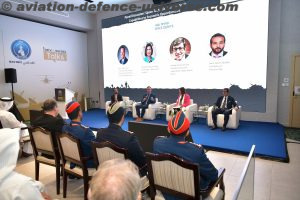 Vice Admiral Brad Cooper, Commander at U.S. Naval Forces, Central Command/Commander, and FIFTH Fleet & Commander at Combined Maritime Forces, concluded the sessions for the day by delivering a presentation on the 'Regional progress in strengthening maritime security through unmanned systems and AI technology integration'. Cooper said: "For decades, we've worked closely with our partners, and our relationships are growing and expanding in new ways. One of the more visible ways the United States is expanding cooperation with the UAE and our many regional partners is by integrating unmanned systems and AI technologies into regional maritime security operations. I believe that we're witnessing significant breakthroughs every day. By enhancing maritime security and increasing deterrence, we put ourselves in a more promising position for a very bright future together."
"Our vision is to integrate 100 unmanned advanced surface vessels into maritime operations throughout the Middle East by the end of the summer. I'm also pleased to announce today for the first time that we are approaching the halfway point to reaching our ultimate goal. Our momentum continues to build as we quickly discover the enormous value that unmanned systems and AI technology integration has in expanding our collective capabilities of tomorrow. Cooperation and accelerating innovation are essential for strengthening regional maritime security. I also believe that we are on the cusp of an unmanned technological revolution and it is exciting to be on the forefront with all of our regional partners every step," added Cooper.
IDEX Talks will continue to tackle additional key topics in the defence industry tomorrow, by providing a platform for global industry experts to convene and share insights.