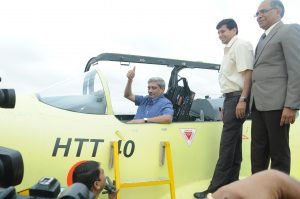 By  Team ADU
Bangalore. 17 June 2016. India's dream of a made in India trainer came out of the pipelines and flew into the  grey  skies . Hindustan Turbo Trainer-40 more popularly called HTT40 is a Hindustan Aeronautics Limited (HAL) proposal for an indigenous replacement for the Indian Air Force's retired HPT-32 Deepak as a basic trainer. The aircraft will be primarily used for basic flight training, aerobatics, instrument flying and close-formation flights, whereas its secondary roles will include navigation and night-flying.
The Defence Minister Manohar Parrikar witnessed the inaugural flight of India's own indigenous HTT 40 (Basic Trainer Aircraft – BTA) designed and developed by HAL here today at HAL airport. The aircraft was flown by Gp. Capt. C. Subramaniam and Gp. Capt. Venugopal for about 10-15 minutes around 09.15 hrs in the clouded skies.
Parrikar congratulated the team HAL and said "the young team has taken a calculated risk and they have flown the aircraft within one year and kept their assurance. The indigenous content on HTT-40 is close to 80%. Almost 50% of the components on HTT-40 are manufactured by private players of the Indian aerospace ecosystem. Here, the role of private players and MSMEs has been significant in the production of parts. The IAF is positive in all these developments. Both the government and IAF have full faith HAL's capabilities."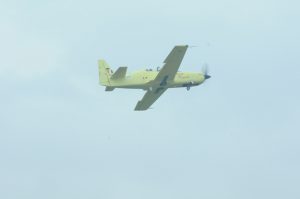 The HAL HTT-40's first prototype rolled out on 02 February 2016 and had its first flight on 03 May 2016. It was piloted by HAL's chief test pilot, Group Capt Subramaniam (Retd). The flight lasted for about 30 minutes. The pilot carried out circuits and the aircraft performance was satisfactory.
Suvarna Raju, CMD, said "We are extremely happy that the aircraft had a flawless inaugural flight in the presence of the Defence Minister. The project will now go in full throttle as we aim to get the aircraft certified in 2018. Towards this, HAL will be manufacturing three prototypes and two static test specimens". It is remarkable feat that the aircraft in its inaugural flight carried out low speed pass, a series of turns, high speed pass and short-landing using reverse thrust which is a unique feature available on this engine-propeller combination, he added.
HAL launched the detail design of the aircraft by earmarking its internal resources in August 2013. The detailed design phase was completed in May 2015 and from there it has taken only one year to fly the first prototype.
The project includes many first time initiatives such as Digital Mock Up (DMU), real time systems clash analyses, laser tracking of assembly jigs, six degree of freedom, mathematical model, complete glass cockpit etc. It is powered by Honeywell's  TPE331-12B turboprop engine.
HTT-40 has been designed not only to meet the current requirement of the Indian Air Force but also it has provision for role expansion to include weapons for the trainer aircraft. HAL plans to start delivering the first two in 2018, eight more in 2019 and its aim of making twenty every year from 2020.