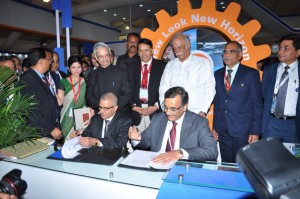 Hyderabad. 16 March, 2016.  Indian aviation majors HAL and Pawan Hans Ltd (PHL) came together to collaborate with each other for setting up of MRO ( Maintenance, Repair and Overhaul) for both defence and civil helicopters. In the bargain India will get its first heliport at Rohini in Delhi.
The two public sector units have signed a MoU to carry-out the maintenance work related to all types of helicopters  for both defence and civil markets in India and hope to attract the neighbouring countries of the region.
V Sadagopan, CEO (Helicopter Complex, HAL) and Sanjiv Bahl, Executive Director, (PHL) signed the MoU. "The business of the joint venture will be conducted in the best interest of the customers based on sound commercial principles", said Raju.
According  to Raju, both the companies will form a joint working team and conduct detailed studies, work on business plan, time line and other required documents for the success of the venture.  HAL has been manufacturing and overhauling its Cheetah/Chetak and Dhruv helicopters besides providing support for Seaking helicopter. The PHL is the largest civil helicopter operator in the country.
 Helicopter business of HAL presently contributes to sizeable business of HAL.   In years to come, this business segment will grow fast. The fleet size of helicopters in Civil Segment in India is expected to go up to 800 in the next 10 years. In addition, there is expected induction of 600 helicopters in defence. All this will require MRO and logistic support to sustain. Also, under the Government of India's "Make in India", campaign there will be greater emphasis on boosting the civil aviation sector. The Government has released a new Draft Civil Aviation Policy on October 30, 2015 with a special focus on Helicopter and MRO. Against this background, HAL-PHL agreement on Helicopter MRO assumes significance.
Ashok Gajapati Raju, the Union Minister for Civil Aviation, Rajiv Nayan Choubey, Secretary, Ministry of Civil Aviation, T Suvarna Raju, CMD, HAL, Dr B P Sharma, CMD (PHL) and other senior officials were present on the occasion.