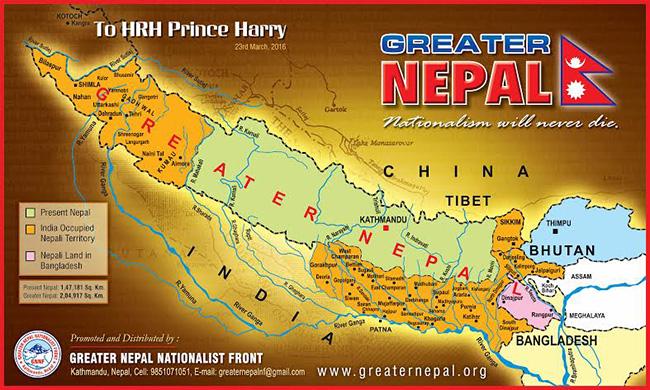 India should be cautious and vigilant
It is not a threat but an irritant
Just the bait anti-India forces would jump at
By Jai Kumar Verma
New Delhi. 19 September 2020. When India is suffering from a major geopolitical migraine, it's Himalayan neighbour Nepal is suddenly adding a little more to this. Recently the news channels in India were full of the news that an organisation in Nepal has released a map of Greater Nepal which has conveniently added a large part of India to it. The growing concept of "Greater Nepal" is an irredentist notion which visualises to include several areas of India which were occupied by Gorkha army after conquering the neighbouring states between 1791 to 1804. The genesis of the idea of Greater Nepal is also linked with ultra-nationalism. However, the idea was exploited by anti-India forces with active involvement of the powerful Chinese intelligence agency the Ministry of State Security (MSS). The MSS which deals with both internal as well as external intelligence is very active in neighbouring countries and its agents always try to spread anti-India sentiments. MSS is one of the most secretive intelligence agency in the world.
The 'Greater Nepal' includes areas of Sikkim, West Bengal, UttraKhand and Himanchal Pradesh. Several important cities of India including Darjeeling, Nainital, Almora and Dehradun are part of proposed 'Greater Nepal'. The proponents of 'Greater Nepal' claim that all these areas were part of Nepal, but the Gurkha King was defeated in the Anglo-Nepalese War and East India Company forced Nepalese king to surrender all these areas and had to sign Sugauli Treaty in December 1815 which was ratified in 1816. The treaty which was a Nepali surrender to East India Company was signed by Raj Guru Gajaraj Mishra with Chandra Shekhar Upadhaya for Nepal and representative of British East India Company. However now Nepalese claim that it was an unjust treaty and lost its significance in the present democratic era. Nepalese also claim that Nepal ceded about 105,000 KMs of area and now the present area of Nepal is only 147,181 KMs. In 1923 the British Government replaced Sugauli Treaty with a "Treaty of Perpetual Peace and Friendship" while in 1950 both India and Nepal converted the treaty into 'Indo-Nepal Treaty of Peace and Friendship'.
The advocates of 'Greater Nepal' plead that the 1950 treaty should be abrogated as it leans disproportionately in favour of India. Phanindra Nepal Chief of a NGO namely Greater Nepal Nationalist Front (GNLF) is a staunch supporter of 'Greater Nepal' besides the NGO there are few small political parties including Greater Nepal Nationalist Front (GNNF) and pro-China and anti-India elements also support the idea of 'Greater Nepal'.
Sometimes back the GNLF and GNNF launched a signature campaign in which they demanded that India should return the territory which Nepal had to surrender under Sugauli Treaty. The organisers of signature campaign also claimed that they will send the signed petition to Nepalese president, Secretary General and all the five permanent members of United Nations to pressurise India to abrogate the unjust treaty and return the occupied land to Nepal.
The exponents of 'Greater Nepal' also emphasise that not only the treaty of Sugauli was unjustified, but the residents of the areas annexed from Nepal are either Nepalese or are racially, culturally and lingually closer to Nepal than India. The Nepal watchers claim that MSS has lot of influence in Nepal and the possibility of the Chinese intelligence agency instigating anti-India activities cannot be ruled out.
Recently Nepal objected on the construction of a 80 KMs long strategic road which connects Dharchula (India) from Tibet Plateau region. The road passes from Indian territory and is useful for the supply of defence armaments. Nepal protested for the construction of road and also claimed that Kalapani, Lipulekh and Limliyadhura are all Nepalese territory. In fact, K. P. Sharma Oli government passed a Constitution Amendment Bill and published a map containing these Indian territory. The map was also passed by Nepalese Parliament. The possibility that MSS was behind the move cannot be ruled out.
The promoters of 'Greater Nepal' claim the territory from India but do not mention about the areas of Tibet which were also won over by Gorkha army in the wars fought with Tibetan army in 1789 to 1791. The Chinese defeated Gorkhha army in 1792 in Sino-Nepalese War and Gorkhas had to vacate the Tibetan territory. Although the Nepalese claim Indian territory under 'Greater Nepal' but the effective presence of Gorkha army was only for few years. The Gorkhali presence in Garhwal was for 12 years, Kumaon 24 years and Sikkim 33 years.
Besides Nepal the idea of 'Greater Nepal' may also get support from Sikkim and Nepali-speaking people residing in southern Bhutan. In 1991, a Greater Nepal Committee was also constituted in Kathmandu. The committee wrote letters to embassies of different countries in Kathmandu, emphasising that India should return Nepali territories situated in east of Mechi river and west of Mahakali river. The committee's aim was to build a public opinion in favour of ''Greater Nepal' in Nepal as well as abroad.
At present neither government nor the main political parties support the idea of 'Greater Nepal'. Pushpa Kamal Dahal alias Prachanda Chairman of Nepal Communist Party and two times Prime Minister stated in an interview to an important newspaper that the concept of Greater Nepal was 'a media stunt'. The Nepali Congress leader and former Prime Minister late Girja Prasad Koirala was more straight forward when he told the journalists that the concept of 'Greater Nepal' is "a product of unstable mind".
It is a fact that at present there is not much support to the idea of 'Greater Nepal' in the Himalayan kingdom. But the idea of 'Greater Nepal' has support of anti-India forces in Nepal and the pro-Chinese lobby also tries to exploit it to generate anti-India sentiments. The intelligence sources claim that MSS agents also actively support the idea of 'Greater Nepal'.
Secondly India's nemesis Pakistan also alleges that India is an expansionist country and not yielding to the rightful claim of its neighbour Nepal. It will instigate Nepal to raise the issue in diverse international forums. Here it will not be out of point to mention that Pakistan Prime Minister Imran Khan telephoned to Bangladesh Prime Minister Sheikh Hasina in July 2020 and desired to have close relations between both the countries. Imran Khan called his counterpart in Bangladesh when the relations between Dacca and New Delhi were little tense.
India is averse to the idea of 'Greater Nepal' as geographically it would control water resources, hydropower, tourism etc. which may be harmful for India.
Hence Ministry of External Affairs (MEA) should keep an eye on this anti-India movement in Nepal as well as its influence abroad especially in United Nations and other international organisations. MEA can also take help of Indian intelligence agencies in knowing the details of the movement and also to ascertain the role of Indian adversaries especially China and Pakistan.
(Jai Kumar Verma is a Delhi-based strategic analyst and a retired senior intelligence officer. He is also member of United Services Institute of India and Institute for Defence Studies and Analyses. The views in the article are solely the author's. He can be contacted at editor.adu@gmail.com)