Breakthrough technology in the rain protection domain
Permanent treatment lasts the life of a window
Technology in evaluation with Airbus on flight-test aircraft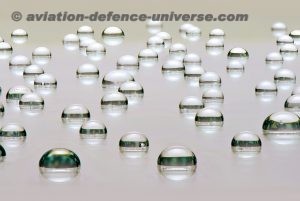 Farnborough. 15 July 2018. GKN Aerospace has developed a new hydrophobic coating for cockpit windows in its transparencies centre of excellence in Garden Grove, USA. The permanent surface treatment delivers in-flight / ground operation rain shedding and significantly enhances resistance to surface abrasion. The technology is being flight trialled in the USA and is now undergoing performance assessment with Airbus on its flight-test aircraft.
Preliminary test results show that the new surface treatment could be added to the range of available solutions for ice and rain protection.
The new GKN Aerospace technology is a permanent solution that only needs to be applied once in the lifetime of a window. By contrast, the hydrophobic technologies currently available in the market today provide only a temporary solution that requires repeat application every six to eight months, dependent on flight hours and conditions.
Gavin Wesson, CEO GKN Aerospace Special Products business explains: "Our new hydrophobic technology proves to be a unique solution that seamlessly fits the demand of our transparencies customers for less maintenance and reduced weight and costs. In our view, this technology potentially eliminates the need for windscreen wipers on cockpit windows. It is great that we can further assess this innovative product together with one of our major customers Airbus."