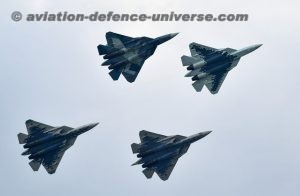 Moscow. 29 August 2019. The Future Hub section, which grew out of the exposition "University Science and Aeronautical and Technical Creativity of Young People", began its work at MAKS-2019. For the first time in the framework of the Airshow a congress and exhibition space was created, where innovative scientific and technical developments of young scientists and engineers, training programs and educational projects of leading aerospace universities are demonstrated, problems of attracting young people to aviation and astronautics are discussed.
The opening ceremony of the section was held on Tuesday, August 27. Welcoming speeches were made by Tatyana Kozhina, Vice-Rector for Science and Innovation of the Soloviev Rybinsk Aviation Technical University, Yury Ravikovich, Vice-Rector for Research of the Moscow Aviation Institute, Tatyana Startseva, Rector of the Technological University, Vladimir Zimin, Vice-Rector for Research work of the Bauman Moscow State Technical University, Anton Tsvetkov, the leader of the All-Russian movement "Strong Russia" and Sergey Lipovoy, the Chairman of the Presidium of the Public Organization "Officers of Russia".
The key event in the business program of the section was the "Research and Production Cooperation of Machine Building and Industrial Complex Enterprises, Scientific and Educational Organizations in the Implementation of Innovative Programs, Projects and Technologies in the Context of Production Diversification" conference, organized by the Moscow State Automobile and Road Technical University. Speakers at the event, specialists of universities and aerospace industry enterprises discussed the problems of diversification of production of defense industry enterprises, conducted in cooperation with scientific and educational organizations.
Presentations prepared by the participants of the section drew the interest of MAKS-2019 visitors. The Moscow Institute of Physics and Technology told about the preparations for the ICPC World Championship in sports programming, which will be held in Moscow next year. Specialists of the Skolkovo Institute of Science and Technology presented the Skoltech Space Center. Within the open lecture "Experience of development, creation and operation of small spacecraft of "AIST" series" specialists of Samara National Research University told about design, experimental development and operation of "AIST" spacecraft, and also presented projects of perspective small spacecraft of different purposes.