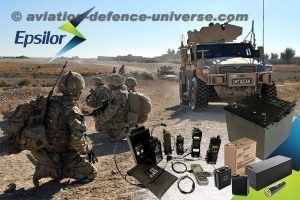 Paris. 11 June 2018. The outlook for the future battlefield has changed dramatically during the last decade, impacting among others the requirements from armored vehicles. Today's armored personnel carriers are expected to be highly mobile, easily maneuvered, have extended operational ranges, carry sophisticated optical equipment and provide superior protection.
We would also like to update you that Epsilor has recently been selected by the Canadian Department of National Defense to develop and provide a charger to meet the operational and technical requirements of the Canadian armed forces' Integrated Soldier System Suite (ISS-S) programme.
Epsilor also won a contract to deliver its military rechargeable batteries for Harris Falcon manpack and handheld radios (PRC-117 and PRC-152) to a South East Asian military customer. In addition, the company signed a contract with to a Central American military customer to provide US Standard BB-2590 Type batteries that fit a wide variety of military applications.
Epsilor together with Kissling Service, an industry leading integrator of vehicle mounted defense systems,is showcasing Epsilor's 6T NATO battery (ELI-52526) on a Mercedes-Benz command vehicle at Eurosatory 2018.