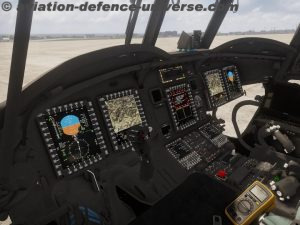 Rotterdam, Netherlands. 24 April 2023.     Engineering & Computer Simulations (ECS) presented two papers at the International Training Technology Exhibition & Conference (IT2EC) in the Netherlands. Research lead, Madison Quinn, presented U.S. Army CH-47F Block II Training Program on April 24, and will also contribute to a panel with the topic Perpetual Rivalry: Government VS Commercial Sims on April 25.
Mick Golson, Engineering & Computer Simulations (ECS) president said: "We're proud to have been selected to showcase our work to the international defense technology community. Our team is honoured to share these papers and excited to collaborate regarding innovative ways to strengthen the way we serve our military through modelling, simulation, and training."
The ECS team of Subject Matter Experts, Instructional Systems Designers, and Software Developers support the U.S Army Program Executive Office Aviation, Project Manager (PM) Cargo's CH-47F Block II training program. Written by Nathan Ginos, Vice President of Development; Quinn; and Timothy Hall, Art Director, U.S. Army CH-47F Block II Training Program outlines the processes utilized to deliver immersive aviation training which promote the job proficiency of the PM Cargo Operators and Maintainers while increasing their mission success. The paper also shares how the team implemented the Analyze, Design, Develop, Implement, and Evaluate (ADDIE) instructional design model to maximize training effectiveness and minimize unit mission disruptions which resulted in the best value solution for PM Cargo and delivered optimal performance, the lowest cost of ownership, and the maximum return on investment. Quinn presented this paper at IT2EC on Monday, April 24.
Perpetual Rivalry: Government VS Commercial Sims, authored by Chief Technology Officer, Shane Taber, and co-authored by Ginos, Quinn, and Hall, focuses on the challenges that government and Department of Defense virtual simulations face when dealing with commercial game developers and publishers which are typically funded by large enterprises.
Taber explains: "While this is not a new problem, it has been magnified recently with the emerging Metaverse and the next generation of digital natives who are increasingly living their lives fully immersed in digital worlds. As this trend progresses, trainees will have much higher expectations when entering the government workforce or military service. Our paper explores the current problem sets, covers different approaches addressing this problem today, and presents ideas for realizing solutions in the near future."
Quinn presented Perpetual Rivalry: Government VS Commercial Sims in a panel format at IT2EC on Tuesday, April 25.