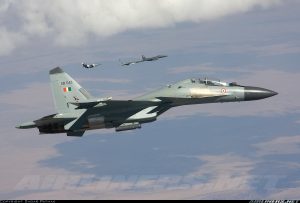 New Delhi. 06, May, 2016. The fleet has encountered mid-air engine problems due to which single engine landings were effected. There have been 34 occasions between 1st April, 2014 to 31st March, 2016 when the Sukhoi 30 MK-I aircraft were forced to land on single engine due to mid-air engine problems.
The operational reliability improvement programme is pursued regularly with Russian Original Equipment Manufacturer (OEM). The Russian OEM has introduced a number of measures to resolve the technical issues that have led to engine problems. The OEM has offered certain modifications or technological improvements for implementation in the production of new aeroengines and during overhaul of engines. The modifications in the process of overhaul and manufacturing, proposed by Russian designers, have been implemented at HAL and OEM. The OEM has also advised certain precautions / predictive maintenance during exploitation of aeroengines which have been implemented by the Indian Air Force (IAF). Further, IAF has also finalised long term repair agreement with Russian OEMs to improve availability of aircraft for operational use.
This information was given by Defence Minister Manohar Parrikar in the Parliament.