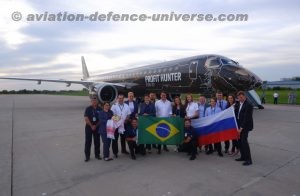 Moscow. 07 December 2020. Embraer, the leading international manufacturer of commercial jet planes with the capacity of 150 seats has registered for the Fifteenth International Aviation and Space Salon MAKS-2021.
"Embraer is to participate in MAKS-2021 as it is a great opportunity for us to demonstrate our aircraft and latest developments to clients in Russia and CIS states. We are looking forward to visiting MAKS-2021," said Cesar Pereira, VP of Embraer Commercial Aviation for Europe, Russia, and Central Asia.
Mr Pereira also reminded that Embraer had been taking part in MAKS for may years. "In 2019, we presented E195-E2 the Profit Hunter to the Russian audience for the first time," mentioned Pereira. As it was announced earlier, E195-E2 in the Tech Lion livery was initially presented at MAKS-2019 after the aircraft had taken a tour around China, Japan, and Asia-Pacific countries. The aircraft was presented as a static exhibition at the Salon in Zhukovsky and sparked a great interest from both carriers and the audience.
Aviasalon JSC holds relationship with our partner, the leading aircraft manufacturer, in high regard. "We thank Embraer management for the meaningful collaboration and welcome their decision to take part in MAKS-2021 as an exhibitor. We believe our cooperation within the International Aviation and Space Salon to be effective and impactful," said Nikolay Zanegin, Deputy CEO, Aviasalon JSC.