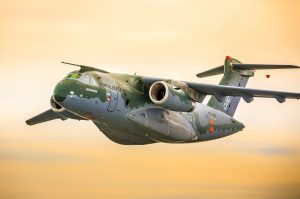 AbuDhabi, February 16, 2017. Embraer is attending IDEX2 017 in Abu Dhabi, from February 19-23, where it will be promoting its new multi-mission, medium-lift transport KC-390.The aircraft made its international debut at the Farnborough Air Show last year, after which it toured Europe and the Middle East visiting potential customers.
Seen as the advanced and modern option to replace legacy medium-lift aircraft, the KC-390 is designed to set new standards inits category, while presenting the lowest life-cycle cost in the market and the ability to perform multiple missions such as transport and airdrop of troops and cargo, search and rescue (SAR), medical evacuation, aerial refueling (fixed and rotary wing) and firefighting, among others.
Embraer expects KC-390´s initial operational capability declaration (IOC) in the second half of 2017 and the certification of the final operational capability (FOC) in the second half of 2018. The flight test campaign of the KC-390 is progressing extremely well, matching the aircraft performance and capability goals predicted through the use of the latest engineering tools. Since the start of the flight test campaign, on 26 October 2015, both KC-390 prototypes have presented a very high availability,logging an unprecedented flight rate in the program, with more than 800 flight hours accumulated by early February.
"The KC-390 brings a new concept to the market as a multi-mission aircraft capable to perform several tasks with a single platform", said Jackson Schneider, President and CEO of Embraer Defense &Security. "It delivers superior performance by carrying more cargo, faster than any other medium-lift aircraft".
Also being showcased at IDEX is the A-29 Super Tucano, the best light attack and close air support aircraft in the market. The Super Tucano is a durable, versatile and powerful turboprop aircraft capable of operating from unimproved runways that was selected by 13 Air Forces around the world. Embraer will also be promoting its wide range of special mission aircraft that includes the Legacy 500 Flight Inspection System, Phenom 300 Medical Evacuation (Medevac) and Phenom 100E Pilot Training System.