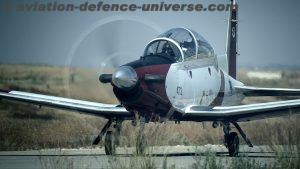 Haifa, Israel. 29 March 2023.  Elbit Systems Ltd  is marking 20 years of operating the  sixteen GROP G-120-AI aircraft fleet of the Israeli Air Force (IAF) that was established by Elbit Systems in 2002 as a multi-year Private Finance Initiative (PFI) program under which the Company procures, operates and maintains the fleet, providing the IAF with training flight hours. Since the start of operations, high customer satisfaction level has earned Elbit Systems with follow-on contracts to continue delivering this service to the IAF for two consecutive 10-year periods.
During the 20-year period of its operation, the GROB G-120-AI fleet delivered 140,000 training sorties and 85,000 flight hours while maintaining availability rate of 94.7%.
Elbit Systems' expertise on delivering, operating and maintaining aircraft fleets resulted in continuous expansion of the Company's activity in this area.
The Israeli Ministry Of Defense contracted Elbit Systems for handling two additional training fleets for the IAF – the Texan T-6 basic trainer fleet and the M-346 advanced jet trainer fleet; the Israeli Ministry of Public Security also contracted the Company for the delivery, operation and maintenance of Israel's Air Tractor aerial firefighting fleet. In 2016 Affinity, an Elbit Systems JV, was contracted to procure, operate and maintain the Phenom 100, Beechcraft T-6 and GROB G-120TP fleets of the UK MFTS for the Royal Air Force. In 2020 the Company secured an approximately $1.7 billion contract from the Hellenic Ministry of National Defense, under a G2G contract, for the establishment and operation of the Hellenic International Flight Training Center with fleets of T-6 and M-346. These bring the total number of aircraft operated by Elbit Systems to over 170.
"We are proud of the excellent performance indicators we have been able to achieve." said Adi Raviv, Elbit Systems VP for Flight Academies and Services, explaining that "delivering such a top service rate, with an emphasis on safety and availability, takes highly professional technical teams, well organized logistics and rigorous management."