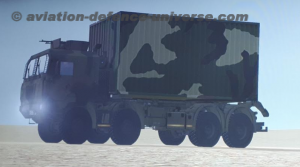 Paris. 11 June 2018.  French Army' Scorpion modernization program is at the heart of the Training and Simulation Cluster during the 2018 edition of Eurosatory. In this context, ECA Group is showcasing on its booth its Army Logistics Heavy Vehicle simulator as part of the latest addition to the Vulcain simulation platform.
ECA contributes to the French Army's Vulcain Platform, by implementing an Army Logistics Heavy Vehicle simulator, EF-Truck NG, to fit into a virtual convoy driven by an Army logistics soldier, led in a collaborative simulation (15 simulations means in network).
As an expert in driving simulators, ECA Group takes in consideration all the required parameters to ensure an efficient training in the French Army provided virtual environment.
The expertise brought by ECA Group's know-how in driving simulation permits to recreate very realistically the response of an Logistic Vehicle, and especially when driven in harsh environments (unpaved roads with deep sand, mud, ditches etc.)
This platform named "Vulcain", thanks to the High Level Architecture (HLA) technology, makes it possible to operate distributed simulation on land missions, that is to say to be able to connect several simulators of different natures simultaneously. ECA Group's software's engineers use this HLA technology to interconnect ECA Group' simulators to the French Army virtual theatre of operations.