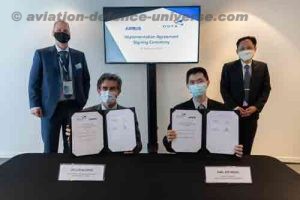 Singapore. 15 February 2022. Singapore's Defence Science and Technology Agency (DSTA) has signed two separate agreements with Airbus Defence and Space, and The Boeing Company to collaborate further and tap advances in digital technologies. Signed on 15 February 2022 at the biennial Singapore Airshow, the agreements will deepen ongoing joint efforts in data analytics.
New data pipeline infrastructure will be created for the seamless exchange of digitized fleet and supply chain datasets. This will allow for improved data analytic insights for the optimization of aircraft maintenance support, leading to reductions in sustainment cost, improvements in overall fleet availability and higher operational readiness for the Republic of Singapore Air Force.
"We have been actively co-developing digital solutions with an extensive network of industry partners. These new agreements with Airbus and Boeing present exciting opportunities for closer collaboration, with new data pipelines to enable smarter maintenance of our aircraft. By teaming up with these global industry players, DSTA is well-placed to create new technological breakthroughs for the Singapore Armed Forces," DSTA Chief Executive Mervyn Tan said.