Lauds Army's unmatched valour & zeal while operating in challenging situations; Motivates them to continue serving the nation with bravery & dedication
Nation feels secure because of your courage, commitment & constant vigil; We are with you always: Mr. Rajnath Singh to soldiers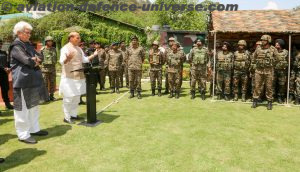 Defence Minister Mr. Rajnath Singh took stock of the operational preparedness of the Indian Army and the security situation along the border during his visit to the Army Base Camp in Rajouri, Jammu & Kashmir on May 06, 2023. J&K Lieutenant Governor Mr. Manoj Sinha, Chief of the Army Staff General Manoj Pande and General Officer Commanding-in-Chief, Northern Command Lt Gen Upendra Dwivedi were present during the review meeting.
The Defence Minister interacted with the soldiers and commended their valour and zeal while operating in challenging situations. He asserted that the Nation feels secure because of the unmatched courage, commitment and constant vigil of the soldiers of the Indian Army in difficult areas. He motivated them to continue working with the same dedication and bravery, stating that the Government and the people of the country are with the Armed Forces always.
Mr. Rajnath Singh also paid homage to the brave soldiers who made the supreme sacrifice in the service to the nation in Rajouri on May 05, 2023. Their sacrifice will never be forgotten, he said.